"It seems that one person can make a difference, nuff said." If I remember correctly, that is what Stan Lee said to Peter Parker in the movie.
Yes, the creator of Spider-man made a cameo appearance in this 3rd installment. Being a Marvel Comics fan since primary school, watching Spider-man (X-Men and the upcoming Transformers) is like a dream come true.
Collecting comics is an expensive hobby. It was more than what I received for the pocket money. I have to keep some of it and decide which issues to buy as I can only afford to buy 1 or 2 a month. For the ones I missed, I would try to borrow (if I am lucky) from my friends or we just discuss it.
We didn't lend or borrow as we wanted to keep our collection in mint condition. I remembered once when I used all my savings for comics. I asked my father for a piece of a check of the same value so that I could order comics directly from a specialty store. He topped up a bit and I remembered being really happy at that time.
In a way, it taught me how to manage money.
Spider-Man 3
Anyway, how was Spider-Man 3?
I expected more.
Apart from great CGI and supervillains, and a great final scene, it was boring. I think Venom, being a significant character in the comics, was introduced too late and too short in Spider-man 3. The movie dragged quite a bit with the love story of Peter and MJ. It does, however, made Peter Parker more human.
My daughter wasn't paying attention throughout the movie. I was surprised as she really liked 1 and 2 and has been watching the DVDs repeatedly when she found out no 3 is coming.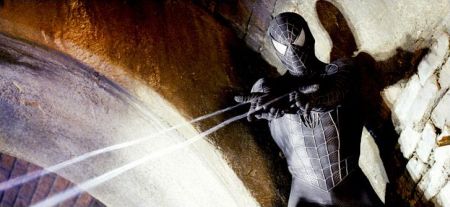 Some of My Spider-Man Comics
Want to see my comics. This is part of my collection, Spawn and Secret Wars. There are more but I can't take all out as I don't want my son to see… ha…ha .. comics helped me with my English but those are my collection, I don't want him to mess with them.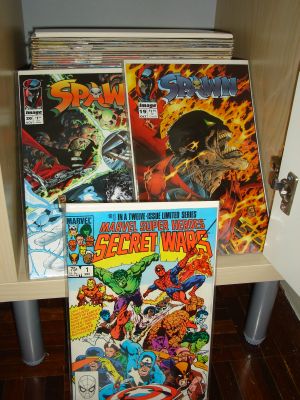 That's issue number 1 of Secret Wars. The black costume, which eventually became Venom, was originally introduced in Secret Wars 8 (below). I sold that off and made money from it. Should have held on to it longer but how would I know there will be a movie about Spider-man? The original black costume is much sleeker than the one in the movie. Pure black with a white spider logo.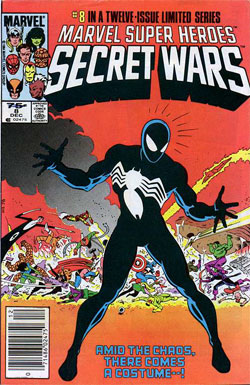 Interested in buying back issues or specifically Marvel Super Heroes Secret Wars # 1, check this out.