The Cheapest 10 Inch Tablet For Reading Comics: Amazon Fire HD 10
Hey there, my gorgeous comic-loving girls! It's your friendly neighborhood Jack Jack back again with the cheapest tablet for reading comics.
Are you ready to dive into the exciting world of digital comics. Today, I have something special for you – the ultimate device that will take your comic reading experience to new heights. Get ready to unleash the comic universe with the cheapest table for reading comics online – the Amazon Fire HD 10!
Imagine immersing yourself in the captivating world of comic books, where vibrant illustrations and thrilling narratives come to life with every turn of the digital page. Now, picture doing all of this on a tablet that's specifically designed to enhance your comic reading experience. That's where the Amazon Fire HD 10 comes into play.
The Perfect Canvas: Display and Reading Experience
A great comic reading experience begins with a stunning display, and the Amazon Fire HD 10 delivers just that. Featuring a brilliant high-definition 10.1-inch screen, this tablet ensures that each panel bursts with vibrant colors, rich details, and impressive clarity. It's like having an art gallery at your fingertips, where every stroke and shading is brought to life.
Comics are all about visual storytelling, and the Fire HD 10's display elevates this experience to new heights. From the vivid costumes of superheroes to the intricate backgrounds of epic battles, you won't miss a single detail. It's like having your very own comic book convention in the palm of your hand.
Power Within: Performance and Speed
When it comes to reading comics online, a tablet needs to have the power to handle the complex visuals and seamless page transitions. Fear not, my lovely readers, as the Amazon Fire HD 10 is equipped with a powerful processor and ample RAM, ensuring smooth performance and speedy navigation through your favorite comic book pages.
No more frustrating lags or slow loading times. With the Fire HD 10, you'll experience fluid scrolling, quick zooming to appreciate intricate artwork, and effortless swiping to uncover the next thrilling plot twist. It's like having your own sidekick, supporting you through each comic book adventure.
Fire OS
Picture this, my lovely ladies! Amazon's Fire tablets, running on the fiery Fire OS, which happens to be Amazon's own snazzy version of Android, are the ultimate companions that eagerly respond to your every command. Yep, you guessed it right – Alexa's got your back, beauties! But hold onto your fabulous hats, because there's a tiny catch. These tablets mainly rely on the Amazon Appstore, so venturing into other app realms from different platforms is a no-go. Don't fret, though! Despite this little limitation, the Fire OS is as easy to handle as your favorite designer clutch, ensuring a smooth and intuitive experience that will keep you smiling.
Now, here's where the real magic happens, ladies. The HD 10, the true stars of the show, keep up the tradition of spoiling us, fierce Prime members, with jaw-dropping perks. Think about it – shows, films, books, and music, all yours for the taking, without spending an extra penny! But hold up, gorgeous gals, there's a secret sauce here. To truly unlock the beastly performance of these tablets and tap into the world of limitless entertainment, you'll want to have that golden ticket – an Amazon Prime membership. Now, fear not, my darlings, because joining the Prime squad is a piece of cake, and it's unlikely to be a deal-breaker for any of you fabulous ladies out there.
Expanding Your Universe: Access to Comic Platforms and Libraries
The true beauty of the Amazon Fire HD 10 lies in its seamless integration with popular comic book platforms and libraries. Whether you're a fan of Kindle, ComiXology, or Prime Reading, this tablet has got you covered. With just a few taps, you'll unlock a vast selection of digital comics, ranging from classic titles to the latest releases.
Picture having an entire comic shop at your disposal, accessible with a flick of your finger. The Fire HD 10 grants you access to an expansive universe of superheroes, villains, and everything in between. Lose yourself in the world of Marvel, DC, Image, and many more, right at your fingertips.
But it doesn't stop there, my fellow comic enthusiasts. Amazon's content ecosystem ensures that your comic collection can grow exponentially. With seamless integration between platforms, you can easily transition from reading a comic on Kindle to exploring ComiXology's extensive library. It's like having a secret passage that leads you from one exciting adventure to the next.
Beyond Comics: Internet Browsing and Multimedia
Now, let's talk about the versatility of the Amazon Fire HD 10. It's not just a dedicated comic reading device; it's your gateway to the wider digital world. With the tablet's built-in web browser, you can venture beyond the comic panels and browse the internet to your heart's content.
Picture this – you're reading an issue of your favorite comic and want to delve deeper into its lore or discuss it with like-minded fans. With the Fire HD 10, you can effortlessly search for comic-related websites, forums, and fan communities. Connect with fellow comic enthusiasts, share your thoughts, and expand your knowledge of the vast comic universe.
But the fun doesn't end there. The Fire HD 10 gives you access to the world of multimedia entertainment, including popular streaming services like Amazon Prime Video and Netflix. Take a break from reading comics and indulge in a binge-watching session of your favorite TV shows or movies. It's like having a personal cinema, ready to transport you to thrilling new worlds.
The Portability Advantage: Reading Comics Anywhere
One of the greatest advantages of the Amazon Fire HD 10 is its portability. It's lightweight, sleek, and perfectly sized to fit in your bag or backpack. Take your entire comic collection with you wherever you go, just like a superhero carrying their gadgets and tools. Whether you're on a long journey, waiting for your turn at the dentist's office, or simply lounging in a cozy café, your comics are always within reach.
Gone are the days of lugging around heavy stacks of physical comic books. With the Fire HD 10, you have the freedom to immerse yourself in incredible storylines and breathtaking artwork, no matter where you are. It's like having a personal portal to adventure and imagination.
User-Friendly Features: Battery Life and User Interface of The Cheapest Tablet For Reading Comics
The Amazon Fire HD 10 is designed with user-friendly features that enhance your comic reading experience. Its long-lasting battery ensures that you can delve into countless issues without worrying about running out of power. It's like having a sidekick that never leaves your side, always ready to accompany you on your comic book quests.
The tablet's user interface is intuitive and easy to navigate, making it a breeze to discover new comics, manage your library, and customize your reading settings. Adjust the brightness, choose your preferred text size, or even enable guided view to ensure an optimal reading experience. It's like having your own personal comic curator, tailoring each comic to your preferences.
Unleash Your Comic Adventure with Amazon Fire HD 10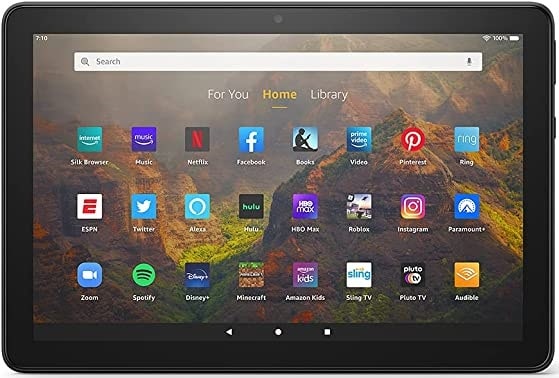 In conclusion, my beautiful readers, the Amazon Fire HD 10 is the ultimate companion for your comic book escapades. Its stunning display, powerful performance, and seamless integration with comic platforms make it the best tablet for reading comics online. Immerse yourself in a world of superheroes, villains, and captivating narratives, all at your fingertips.
So, grab your Fire HD 10, slip into the realm of comics, and let your imagination run wild. Unleash your comic universe and embark on unforgettable adventures with your favorite characters. The Amazon Fire HD 10 is your passport to a world of endless possibilities, where every page turn holds new surprises, just waiting to be discovered.
Remember, the power of comics lies in their ability to transport us to extraordinary realms, ignite our imaginations, and connect us through shared passions. With the Amazon Fire HD 10, the comic universe is within your grasp. So, embrace the digital age, ignite your love for comics, and let your journey begin!
The Amazon Fire HD is the cheapest tablet if you just need a tablet for:
Reading comics online
Binge-watching session on Amazon Prime or Netfilx
Browsing
Replying emails
>> Get the cheapest tablet for reading comics: Amazon Fire HD 10 from Amazon
Ladies, let me indulge you with a little comparison game. Brace yourselves, for we're about to pit the mighty Amazon Fire HD 10 against its rival tablet. Oh, the suspense!
Now, which tablet did I go head-to-head with, you ask? See the table below:
| Specification | Fire HD 10 | Fire HD 10 Plus |
| --- | --- | --- |
| Price | $149.99 (Amazon) | $179.99 (Amazon) |
| Screen size | 10.1-inch | 10.1-inch |
| Screen resolution | 1920 x 1200 pixels | 1920 x 1200 pixels |
| Processor | 2GHz octa-core | 2GHz octa-core |
| RAM | 3GB | 4GB |
| Storage | 32GB or 64GB | 32GB or 64GB |
| MicroSD slot | Yes, up to 1TB | Yes, up to 1TB |
| Camera | 5MP rear, 2MP front | 5MP rear, 2MP front |
| Battery life | Up to 12 hours | Up to 12 hours |
| Wireless charging | No | Yes |
| Finish | Plastic | Soft-touch |
Add a Mere $30 for Amazon Fire HD 10 Plus
Ladies, gather 'round and let me spill the delectable details about the dazzling Fire HD 10 Plus! Now, for a mere $30 more, this sassy upgrade brings a whole new level of fabulousness to the table. Picture this: a smooth new finish that will have you swooning, a generous boost in RAM for lightning-fast speeds, and oh, did I mention wireless charging support? Oh, yes! But hold onto your action figures, because that's not all. The Fire HD 10 Plus even offers you the option to snag its very own unique wireless charger and stand, like the perfect power couple!
Now, let's talk value. That extra $30 might seem like a small price to pay, but trust me when I say it's a game-changer. It's like upgrading your wardrobe with designer shoes for a steal. You won't regret it! This hefty upgrade makes it a no-brainer recommendation for any buyer looking to level up their tablet game. However, if you're looking to save those precious dollars, and hey, we all love a good bargain, then fear not! The Fire HD 10 is still a worthy contender in its own right. No shame in going for the more budget-friendly option, my thrifty beauties!
But here's the kicker. If you have the luxury of spare cash, and let's be honest, who doesn't love a little splurge now and then, then trust me when I say the Fire HD 10 Plus is an absolute must-have. It's like finding that hidden gem in a sea of ordinary options. So, if you're ready to take your tablet game to dazzling new heights, don't hold back, my fabulous ladies! The Fire HD 10 Plus is waiting to sweep you off your feet!
>> Get the best value tablet for reading comics: Amazon Fire HD 10 Plus from Amazon