I bought a local comic recently. The Cicakman comic series published by KRU.
Cicak is a word in Malay which means Gecko.
Cicakman = Geckoman.
There are three movies about Cicakman.
The first Cicakman movie was released in 2006 and the sequel titled Cicakman 2: Planet Hitam was released in 2008. The first movie made over RM350,000 in its first day. Following the box-office success (they made MYR 6.7 million), the second movie was release in Malaysia, Singapore and Brunei.
Shot in full HD and with 40% green screen, the first Cicakman movie starred comedian Saiful Apek as the protagonist, Hairi Yatim. He is a loser who works at a lab in the city of Metrofulus. One day, he accidentally drinks up a cup of coffee with a virus-infected gecko. The next day, he finds himself waking up on the ceiling and being able to do weird things, like a Gecko.
The third film titled Cicakman 3 was released in 2015 with an all new cast, where Zizan Razak took over Saiful's protagonist place instead.
Cicakman origins is not that original, but salute to KRU for creating an original superhero with original and one of a kind villains.
If you watch the movie, especially the first one, I am very sure that you will be impressed by Professor Klon, Ginger 1 and Ginger 2.
Anyway, back to the cicakman comics …
Cicakman Comic #9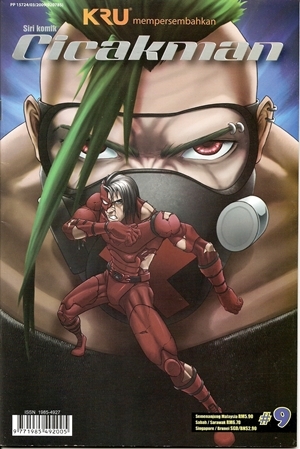 The picture above is from Cicakman comic #9 – Hilang dan Kembali. I bought #8 before this, but I didn't like it.
Bought #9 just to make sure.
Yes, confirmed, I don't like it.
The paper quality is good. For only half the price of a Marvel comic, it is really worth it. The colors are great!
The storyline is ok, but I think their target audience is for readers that are below 9 years old. Since the first movie was very successful, why not target the adult readers especially those who enjoyed the movies, with spending power – Me.
However the drawing, Haih! Really bad.
I am sorry, but there are better local artists than this one, why not hire them.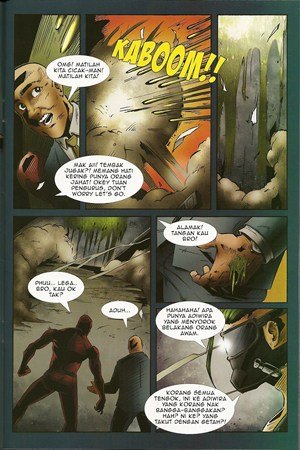 Another thing is, there's no continuation between issues #8 and #9.
KRU should think of doing that, as it builds anticipation. Even if the story is totally different and even if the story ends at #8, they should find a way to build the anticipation. Something that will make the readers waiting for the next issue. Without it, there's nothing to look forward to.
Cicakman Movies
There are three cicakman movies and currently all three are on Netflix.
Cicak-Man – When a lab assistant accidentally swallows a gecko, he develops superpower skills and sets out to save his city from a sinister professor. Starring Saiful Apek, Fasha Sandha and Yusry Abd Halim.
Cicakman 2 – Planet Hitam – Evil Professor Klon is back with a plan to control the entire planet's water supply, and it's up to Cicakman to stop the chaos. Starring Saiful Apek, Fasha Sandha and Aznil Nawawi.
Cicakman 3 – It's been years since Cicakman was last seen but his presence still looms large in the heart of one obsessed fan. Starring Zizan Razak, Lisa Surihani and Fizz Fairuz.
Cicakman Animated Series
The animated series is a bit different from the movie. It is about a high school custodian that uncovers new crime-fighting powers but soon realizes being a superhero takes serious work.
There are 13 episodes in season 1.
Cicakman Go & Ular Bukan Penghalang
Kita Perlu Beg Besar & Kejadian Raksasa Ikan Dan Bot Yang Hilang
Kenapa Lebah Tak Boleh Dibela & Selamat Datang Ketua Jenayah
Bukannya Kapal Lanun & Lari Cicakman Lari
Bukan Calang-Calang Budak & Tolong Seseorang
Saya Bukan Kawan Awak & Kaki Saya Tak Boleh Berhenti Menari
Cicakman Datang ke Sawang Saya & Bling Bling Meteor
Plastik Menarik & Lubang Benam Suci
Sejuk Berjumpa Awak & Perangkap Untuk Cicakman
Hati-Hati Siapa Yang Awak Jemput & Dia Comel Kan
Klon Klon & Jenayah Jerung
Mumia Jahat & Cinta Boleh Jadi Senjata
Alat Tambahan & Pencuri Supersonik
If you ask me, go watch the first movie. Skip the rest.