Dark Nights: Death Metal #1
Finally, I finished reading Dark Nights: Death Metal #1.
As I mentioned earlier, I have three, yes … 3 copies of issue #1.
Dark Nights: Death Metal #1 Minimal Trade Puppeteer Lee
Dark Nights: Death Metal #1 Trade Dress Puppeteer Lee, and
Dark Nights: Death Metal #1 (of 6) Stanley Artgerm Lau Wonder Woman variant edition.
For those of you who don't know, this is DC's big event book this year. Death Metal will be a massive event and a critical book to the whole of the DC Comics universe in the future as it's going to set the new status quo for DC by the end of the series.
Before you go on, if you are new to the Dark Nights: Death Metal mini-series, please go through the Dark Nights: Death Metal reading order. At least you would know what to expect when reading this review.
Dark Nights: Death Metal #1
Story: Scott Snyder
Art: Jonathan Glapion, Greg Capullo
Colors: FCO Plascencia
Letters: Tom Napolitano
Release Date: June 16, 2020
Honestly, it will confuse you.
When the Dark Multiverse envelops the Earth, the Justice League is at the mercy of the Batman Who Laughs. Humanity struggles to survive in a hellish landscape twisted beyond recognition.
While Batman, Wonder Woman, and Superman have all been separated and fight to survive.
Earth is now broken up into four main continents:
Megakopolips
Castle Bat
Themyscira
Arkham Wastelands & Fall of Captain Atom
It is a bit confusing if you haven't read any of Snyder's previous works on Batman and Justice League.
Death Metal picks up from the cliffhanger ending of Snyder's run on Justice League. It ends as they dashed through a glowing door.
It's going to be tying together several events from other stories and titles. Dark Nights: Metal, Justice League, Flash-Forward, Year of the Villain: Hell Arisen, Doomsday Clock included, and more.
There are so many Bats, including a Batman T-Rex or B-Rex.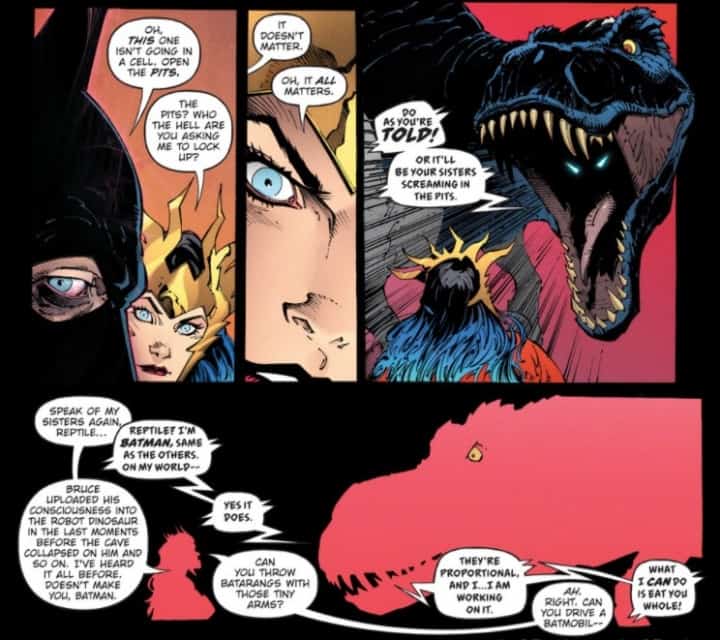 Bruce uploaded his consciousness into the robot dinosaur in the last moments before the cave collapsed on him, so the robot dinosaur from the Batcave now possesses Bruce's consciousness.
There are also Plastic Man Batman, Clayface Batman, Deathstroke Batman, Scarecrow, and Etrigan Batman.
There's so much happening in one issue.
How Wonder Woman became the warden of Hell?
How Wally West, who has the power of Dr. Manhattan, is captured?
Batman using a Black Lantern ring to raise his very own army of the dead.
The comic ends with the final Bruce Wayne, which apparently is a Dr. Manhattan Bruce Wayne.
Dark Nights: Death Metal #1 starts with Sgt. Rock giving an analogy about turdburgers. He is trying to get the soldiers pumped up and ready for war. And it ends with him being carried away by Batman (the real one) for the one last fight.
I really enjoyed the first issue, and I also like the Dark Nights: Death Metal music video trailer.