Iron Man Mark IV Hot Toys Movie Masterpiece
If you liked the Iron Man movie, you'll love the Iron Man Mark IV from the Iron Man 2 movie. This is from Hot Toys Movie Masterpiece 1/6 Scale Collectible Figure Iron Man Mark IV!
With so many movie titles coming from Marvel lately, one thing is for sure: the demand on collectibles and action figures based on characters from Marvel Comics and films is going to go through the roof. Action figures will be coming out in all shapes and sizes and, of course, their quality will vary wildly.
Trust me, there's a huge difference between a good action figure that has been made with collectors and movie enthusiasts in mind and a "Made in China" toy that has been made for toddlers to play with.
I think it goes without saying that collectors should do some research before investing in an action figure, especially if they intend to have it on display. Now when it comes to certain less popular characters from Marvel movies, like Mary Jane from Spider-Man for example, finding good action figures is relatively easy since there aren't that many of them to choose from, when it comes to popular characters like Iron Man, for example, things are a lot more complicated.
This is where we come in!
In this review, we will take a look at Iron Man Mark IV from the Iron Man 2 movie from Hot Toys.
Iron Man Mark IV – Hot Toys Quality
The first that should grab the attention of any collector worth his salt about this amazing action figure, is the fact that it has been made by industry leaders Hot Toys, one of the most famous and well-respected action figure manufacturers in the world.
Their last figure, based on the Mark III armor from the first Iron Man movie, was hailed as the best Iron Man action figure on the market.
The Iron Man Mark IV action figure, is a vast improvement over its predecessor, making it essential for all collectors.
Iron Man Mark IV Details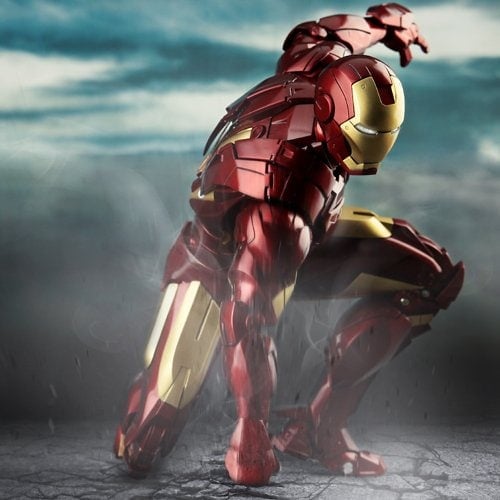 The first thing you'll notice about it is the fact that the sculpt has changed quite a bit. The biggest difference you'll notice is the fact that the waist is now more form-fitting, giving the figure a more natural and human look than its predecessor. New servos have also been added in many joints, to reflect the changes and improvements that Tony Stark made to his armor between the two movies. Another cool thing about the sculpt is its color, which is a perfect reproduction of the "hot rod" red and gold pattern used in the movie. It is by far the most accurate action figure based on the movie version of Iron Man out there.
What really makes the Iron Man 2 Hot Toys Masterpiece 1/6 Collectible Action Figure really unique, is its many articulation points. The neck can be moved around very easily thanks to the fact that it's on a double ball. The shoulders can rotate a full 360 degrees and the wrists can also rotate.
When it comes to the figure's hands though, what sets it apart from just about every other figure on the market, is the fact that each finger is also articulated. This will allow you to set and display the figure posed exactly as you want it.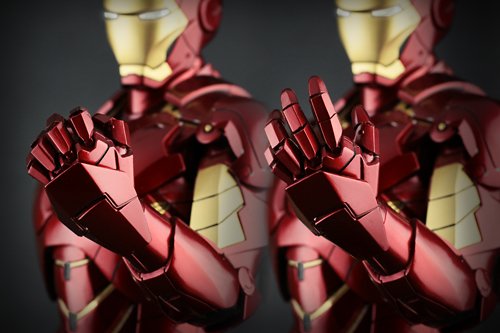 The waist and his hips are also movable and the figure also comes equipped with special flaps behind the shoulders that you can open and close.
Other cool features of the Iron Man Mark IV collectible action figure include a replacement head depicting Tony Stark unmasked and modeled after Robert Downey Jr. Furthermore, the Arc Reactor on the breastplate can also light up to make it look even cooler when displayed, please note that you'll need three AAA batteries, though.
Finally, it also comes with a special display stand based on Tony Stark's "armor hall" from the movies.
If you're looking for the perfect action figure based on the Iron Man movies, then the Iron Man 2 Hot Toys Movie Masterpiece 1/6 Scale Collectible Figure Iron Man Mark IV, is definitely your best choice!
Where to buy the Hot Toys Iron Man Mark IV?