2 Best Apps For Reading Comics
There are many sites that offer free comics. You can either read them online or download them to your PC. And you need apps for reading comics if you download them to your PC.
Most of the downloadable comics are in CBR format. An example of Avengers #10 may look something like this:
avengers#10.cbr
What is a CBR File?
A CBR file extension is a CDisplay RAR Archived Comic Book file. It's actually a RAR file that compressed the comic images into a file. If you don't have a CBR reader to open a CBR file, you can rename the CBR to RAR and use any RAR utility program to decompress it.
i.e. rename avengers#10.cbr to avengers#10.rar
Once decompressed you will get all the single PNG files (or JPG) and you can use any picture viewer to open.
How To Open a CBR File?
If you prefer to keep it in a single file and not decompress it, the easiest way to open a CBR file is to use a CBR reader. I am familiar with two and both are free to download and use:
Both works in the same way, not as good as the panel by panel as in the Marvel apps or Comixology guided view, but good enough to let you read the comics you downloaded from the internet.
This is how it looks like in full screen on my laptop using CDisplay Ex. As you can see, there are thumbnails on the left with the page number. You can disable the thumbnails feature if you like.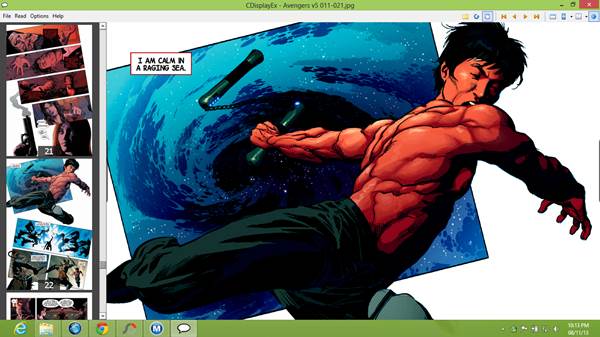 There are much more, but so far the two above fits my requirement perfectly.
You can check the others listed below and then tell me What's The Best Desktop Comic Book Reader or your choice.
MComix – Supports a variety of container formats including CBR, CBZ, CB7, CBT, LHA, and PDF.
ComicRack – Supports reading CBZ, ZIP, CBR, RAR, CBT, TAR, CB7, 7Z, PDF, and DJVU.
SimpleComic – This one is for Mac. Supports CBR, CBZ, ZIP, RAR, TAR, 7Z, LHA, and others.
Another one which was recommended by a friend. He likes it a lot – YACReader