The Flash Costume Evolution Infographic And Something New For Halloween
How about a new Flash costume for Halloween. Yeah, I know that Halloween falls on October 31, but why not start searching for a new one now?
If you have little boys, you know that they love to dress up as all types of things, and they don't care if it is Halloween or not. You have probably already fashioned some things for them on your own, like the cape made from a bedsheet, or perhaps the mask you drew, traced, or printed out on your computer. Little boys are often vocal with what they want when it comes to boys Halloween costumes, and as you may know, as well, there's no point arguing with them. Is it not worth it. Just get a new flash costume for kids as per what they want.
There is no way that you are going to win this one.
Most boys end up fascinated with one thing or another, and that thing is usually something they have seen on television or in a movie. I remember my brother was smitten with the Transformers when he was younger, and that maybe the theme of some boys Halloween costumes today. The movie has captured the imagination of a whole new generation. What is hard about the Transformers is that they would be very complicated boys Halloween costumes to make on your own. However, that does not mean it can not be done. Most likely you can simply go out and buy one.
Superheroes are also very common nowadays. There are so many Marvel and DC animations and movies. From comics to the TV and also to the silver screen. These are often easy to make. If your son loves the Hulk, the cheapest way is to get a green sweater and purple pants and you can turn your kids to mini-Hulks in no time. It's is also easy to find Halloween costumes for boys. You probably have already known this. You probably don't need any suggestions in this area, as your little boy has probably already told you repeatedly what he wants to be.
Some boys are happy to have them made or get the inexpensive boys Halloween costumes that you can find in the store near you, but some are a touch more picky about such things. If you have the imagination and time, you can always go about trying to put something together on your own. However, some of the best costumes could also be found online and that you can always find a good deal if you take some time to see what is out there.
There is a site called Amazon 😀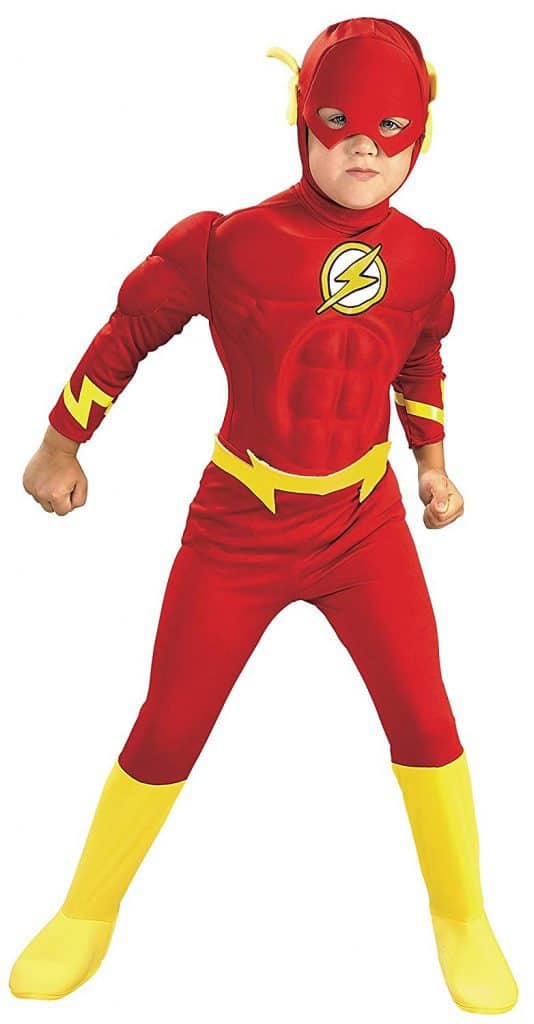 As for me, I don't have any kids … still single, remember? I getting one for my nephew and I am getting him the Flash costume. Boys can be stubborn, but if I start early, then maybe I can persuade him with the Flash.
Something about the Flash's costume that you might not know, the Flash costume evolution:

So, Should You Get The Flash Costume for Halloween?
Whether or not you should get the Flash costume for Halloween depends on a few factors, including your personal preferences, budget, and availability. However, there are a few reasons why getting the Flash costume could be a good idea:
The Flash is a popular superhero, so you're likely to find a good quality costume that looks like the real thing.
The Flash costume is relatively easy to wear, so you won't have to worry about being uncomfortable all night long.
The Flash is a symbol of speed and power, so wearing his costume could give you a boost of confidence.
Ultimately, the decision of whether or not to get the Flash costume is up to you. However, if you're looking for a fun and easy-to-wear costume that will make you feel like a superhero, then the Flash is a great option.
Here are some additional things to consider when deciding whether or not to get the Flash costume:
Your age: The Flash costume is a good fit for people of all ages, but it might be especially popular with kids and teens.
Your body type: The Flash costume is a form-fitting costume, so it's important to choose one that will fit you well. If you're not sure what size to get, it's always better to size up.
The weather: If you're planning on wearing the Flash costume in cold weather, you might want to get a costume that comes with a cape or a jacket.
Check out the varieties of the Flash costumes for kids here.