Dark Knight: Batman and Bat-Pod Action Figure Review
In this review, we will take a look at the Dark Knight: Batman and Bat-Pod Action Figure. This action figure set is one of the best action figures based on Batman and the Dark Knight movie available on the market.
Collecting action figures based on characters from popular movies and comic books is certainly not as easy as it sounds. The problem is that most retailers and sellers alike, can't tell the difference between a collectible action figure that's meant for collectors to display and a toy that has been made for children to play with.
It's not uncommon for a collector to buy an action figure online thinking it is a collector's piece, only to end up with a toy that he could have picked up on any toy store which has little to no collecting value.
With that being said, it is essential to do as much research as possible before investing in an action figure, especially if it's based on a very popular character like Batman or Spider-Man. In fact, since pretty much all well-known superheroes will have movies coming out during the summer, one should be extra careful and vigilant since the market will be literally flooded with action figures, very few of which will be made for collectors.
Batman and Bat-Pod Action Figure
Right off the bat, there is something that sets this action figure apart from the many other action figures based on Batman and superheroes in general
It is made by Bandai!
Bandai is a world-famous Japanese company that is widely considered to be the best action figure manufacturer in the world. Their action figures are always of amazing quality and highly collectible. In other words, the Dark Knight: Batman and Bat-Pod action figure will definitely be one of the "crown jewels" of any collector worth his salt.
Extremely Detailed Batman
When it comes to the Batman action figure, it looks extremely detailed and well made. Every minute detail of Batman's armor from the Dark Knight has been very accurately depicted. In fact, it even comes with movable blades on the gauntlets. Speaking of gauntlets, the figure comes with three interchangeable sets: the standard one, one holding a Batarang, Batman's trademark Shuriken liked weapon, and the grappling hook and finally a set that has been specially designed for use with the second item of this set – the Bat-Pod!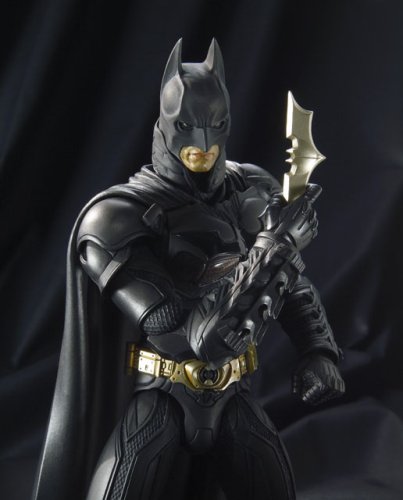 Unlike other figures that are bulkier, this Batman figure looks slimmer and it has a distinctly Japanese look, which makes evident right away the fact that it is made from Bandai and therefore extra rare and highly collectible.
Amazing Bat-Pod
Like I said above, there is another item in this amazing set, the Bat-Pod. The people at Bandai have done an amazing job recreating Batman's cool vehicle from the Dark Knight movie. Every little part and detail has been represented with extreme accuracy. It is as if someone shrank the actual prop they used in the movie.
Needless to say that there aren't many collector's sets that include both a Batman figure and the Bat-Pod, making this even more unique and a true bargain for avid collectors since they'll get two amazing figures for the price of one.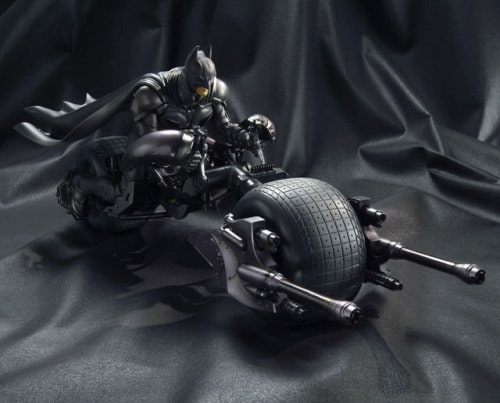 If you are a fan of the Batman comics or the movies by Christopher Nolan i.e. Batman Begins, The Dark Knight and The Dark Knight Rises and you are looking for a truly unique action figure this is definitely the best choice for you.
You don't have to pay an arm and a leg for it. You will get two unique and highly detailed figures made by Bandai for the price of one.
You can't do better than that!
If you are interested, it is in stock and you can get the Dark Knight: Batman and Bat-Pod Action Figure from Amazon.