Star Wars Battlefront – PlayStation 4
I loved Star Wars Battlefront II and I still think that it was one of the best games on the PlayStation 2. I am very sure that if you have bought both of the titles on PS2, you would have been disappointed when there was no Battlefront on PS3.
You have to be content with Star Wars: The Force Unleashed I, II and Star Wars: Force Unleashed – The Ultimate Sith. Of course the graphics are a lot better in Force Unleashed, but still, I preferred the Battlefront series. The main reason is due to the wide range of battles and options.
If you have played Star Wars Battlefront and Star Wars Battlefront II on PS2, then this is the bundle you've been looking for.
Pre Order Your Star Wars Battlefront PlayStation 4 Bundle Now. This item will be released on November 17, 2015.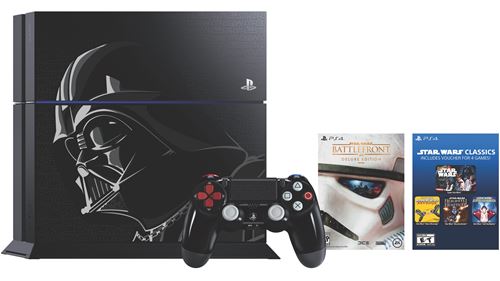 This is what you are going to get with the bundle:
Customized Darth Vader 500 GB PlayStation 4 System (AC Power Cable, HDMI Cable, USB 2.0 Cable, Mono Wired Headset). Darth Vader image is etched on to the console.
1 Customized DualShock 4 Wireless Controller.
A physical copy of Star Wars Battlefront Deluxe Edition, and a digital voucher for 4 Star Wars Classics – Super Star Wars, Star Wars: Racer Revenge, Star Wars: Jedi Starfighter and Star Wars Bounty Hunter.
But too bad, the new Battlefront will not be available on PlayStation 3. If you have seen the trailer, the graphics look amazing and I don't think it would have been possible on the PS3 system. Although I have to admit that the Empire really looked stupid. There's a bunch of Shock Troopers, 20 or 30 or more Sandtroopers plus 2 AT-STs which could not even take out 2 rebels.
Anyway, you don't have a choice. I have no choice. If you only own a PS3, like me, or Xbox 360 and want to play Star Wars Battlefront, you have to buy a new console or upgrade your PC. This is kind of sad news for PS3 owners. A great game that should have been continued on PS3.