Where To Get Free Computer Games
Not just free, but also how to download those free computer games. These are not free to play games but free for PC games. Free PC games for download and you don't have to pay anything for it.
If you don't already know, free to play games means that the base game is free, but some items and in-game content requires you to purchase them. You can still play the game for free though.
Free games simply mean that the games are free. It is 100% free with no charge to play it. There are no in-game items to purchase.
Free Computer Games To Play Now
Epic has been giving away free games every week in 2019 and will be giving away games every week for all of 2020. However Epic is only announcing a few games ahead. Here's what currently available for download now at Epic Games Store and what is coming :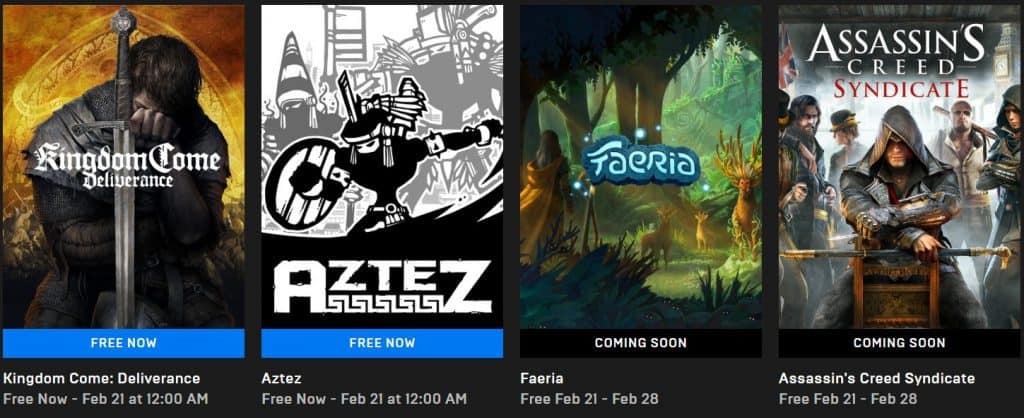 Kingdom Come: Deliverance – Free now until Feb 21
Aztez- Free now until Feb 21
Faeria – Available from Feb 21 until Feb 28
Assassin's Creed Syndicate – Available from Feb 21 until Feb 28
Here's a list what you missed so far for 2020
Carcassonne – February 2020
Ticket To Ride – February 2020
Farming Simulator 19 – January 2020
The Bridge – January 2020
Horace – January 2020
Sundered: Eldritch Edition – January 2020
Darksiders Warmastered Edition – January 2020
Darksiders II: Deathinitive Edition – January 2020
Steep – January 2020
All the PC games are completely free! You don't even need to register your credit card.
No strings attached. You just need to register with Epic Games and download Epic Games Launcher.
How To Download The Free Epic Games
As I mentioned above, you just need to register, and once registered you can get the games. Select the game you want and purchase it like you normally do when buying items online. You will go through a standard process of purchasing a game.
The page will show you the original price, and the same amount will be in the discount column. Total = $0.
The picture above is a part of how the Epic Games Launcher looks like. All your purchases will be listed here. As you can see, I have downloaded The Wolf Among Us. I have not downloaded the other 4 free games. The ones that I have not will be greyed out. You can download the free games and install them at any time, even though it is after the free offer period.
Are the Games Free Forever?
Yes, they are free forever if you get them during the free period. The game will be available for installation in your Epic Games Launcher library at any time. You need to make sure that you 'purchase' it during the free offer period.
IMHO, the best free pc games from Epic Games is the Batman: Arkham Collection in September 2019. The Batman Arkham Collection contains Batman Arkham Asylum, Batman Arkham City and Batman Arkham Knight. The Lego Batman Trilogy was also given free in September 2019.