Halo Comics – Halo: Tales from Slipspace
There's the Halo Games, and then there's the Halo Mega Bloks and you also have Halo Comics. An all-new original graphic novel anthology from Dark Horse. Well, it's not the latest Halo Comics. The latest should be Halo: Collateral Damage.
Full list here. I have also read Halo: Rise of Atriox, check out my review.
Halo: Tales from Slipspace was released in 2016. Just got me a copy recently. There are 128 pages. Looks like I will be stuck with this for a while. It's available in hard copy and also in soft copy. The link is mentioned in the conclusion section below.
I believed that you have read some of our posting on Halo Mega Bloks. Especially on introducing children 10 and below into action figure collection.
There will be a few more posts on that, while we are adding some which on comics, like this one and maybe later look into Halo action figures for adults.
Halo Comics – Halo: Tales from Slipspace content
Halo: Tales from Slipspace has 7 stories which are not related to each other. It's quite easy to start with any. In summary:
Something Has Happened – Written by Alex Irvine and drawn by Vasilis Lolos. It tells a story about a Flood infestation on the UNSC Spirit of Fire in January 2537.
Fireteam Majestic Poker Night – Written and drawn by Kody Chamberlain. A slice of life story centered around Fireteam Majestic playing a game of Texas Hold'em poker.
On The Brink – Written by Duffy Boudreau and drawn by Jonathan Wayshak. On the Brink follows Blue Team during a mission in 2558.
Undefeated – Written by John Jackson Miller and drawn by Eric Nguyen. Undefeated follows the story of the UNSC Nereid's crew during the events of Halo 5: Guardians.
Hunting Party – Written by Jonathan Goff and drawn by Simon Roy. It follows a confrontation between Atriox and the Sangheili special operations team Silent Shadow.
Knight Takes Bishop – Written by Tyler Jeffers and drawn by Dave Crosland. It follows SPARTAN-G059's mission to assassinate Avu Med 'Telcam.
Dominion Splinter – Written by Frank O'Connor and drawn by Marco Rudy. It tells the story of Cortana's encounter with the Domain after the end of Halo 4.
On The Brink
I started with this first. Simply because the art is really damn good when compared to the rest. Jonathan Wayshak should be drawing the whole graphic novel. On The Brink follows Blue Team missions in 2558, months before the events of Halo 5: Guardians. It's narrated by one of the team members, Kelly-087. An M510 Mammoth was hijacked by the Convents and it was sent on an impact course to a nuclear reactor. It is up to the Blue Team to stop the mammoth along with the safety of the passengers.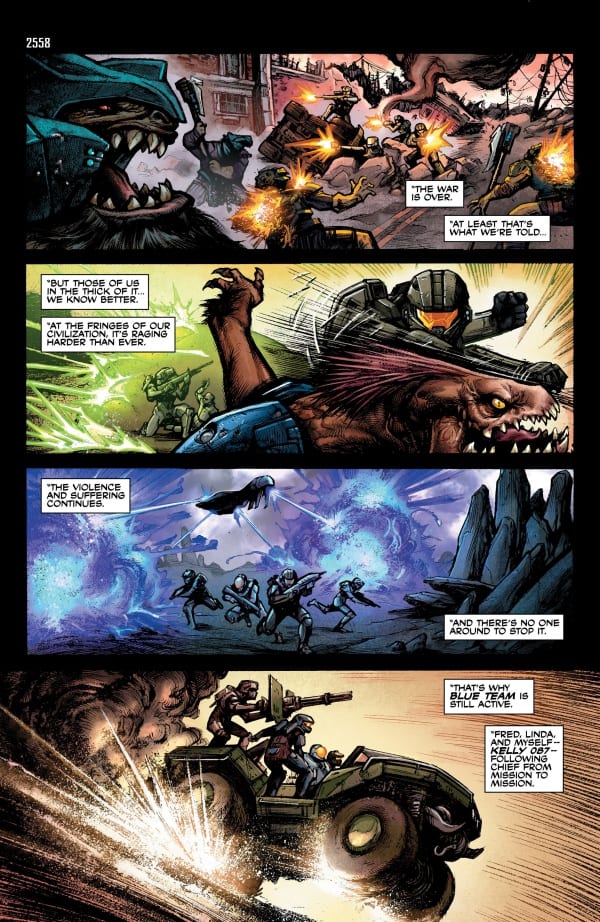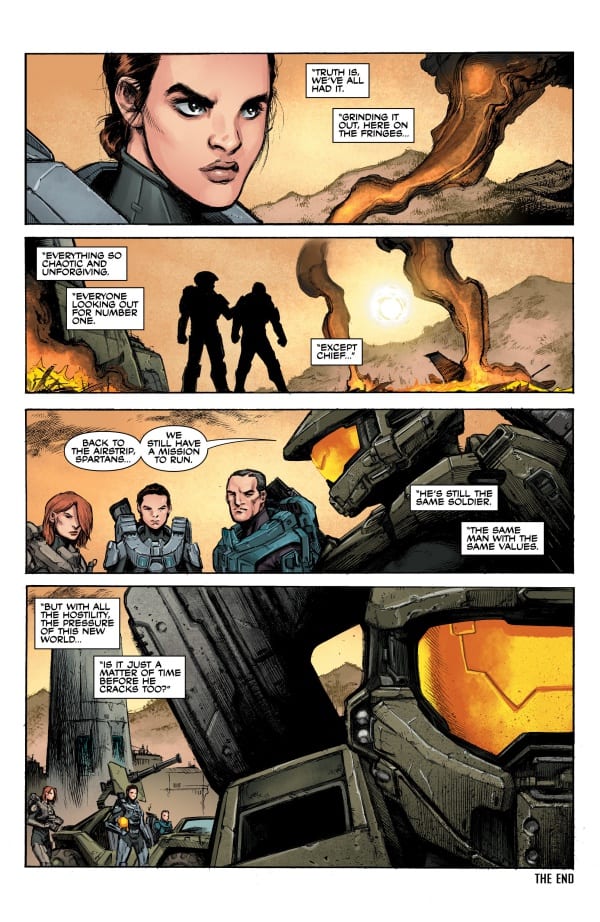 The story has some nice actions. Art, really love it. It also comes with a full-page art, but overall it's too short.
Note: Will add the rest of the comic review later.
Conclusion
Halo is a worldwide gaming phenomenon. With sales of 65+ million units since 2001, Halo is the largest science fiction video game entertainment brand today. The Halo Comics – Halo: Tales from Slipspace is a must-have. The new stories bring more depth to the universe. There are some good stories with bad art, good art with bad stories and there is also the one that's not worth reading. Overall, I still think Dark Horse has done a good job. It's one of the best work the Dark Horse has produced for the Halo universe.
For Halo hardcore fans, this is not to be missed. For the rest, wait a while until there's a bigger discount.
Although the online or downloaded copy may be cheaper, I prefer the hard copy. Check out the latest price here at Amazon.
What's Next?
How many Halo comics are there? Where to start reading halo comics? Need to learn more about the Halo universe? Or just to answer "what the heck just happened?" with Halo.
If you want to know about comics only, then read the post I wrote on Halo comics in order, if you want more then get Halo Mythos: A Guide to the Story of Halo from Amazon.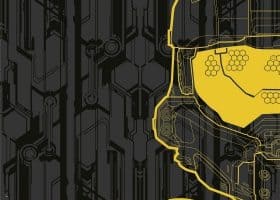 This official authoritative guide to the Halo universe is written in collaboration with 343 Industries. It marks the first time that a book incorporates the entirety of the "Halo" canon, including the games, books, Halo comics, live-action, and animated entertainment, and more. Halo Mythos also includes over 50 specially commissioned full-color paintings showcasing vehicles, weapons, ships, artificial intelligence, and never-before-seen aspects of Halo environments. For the first time ever, the timeline of the Halo universe is available in one source, charting humanity's battles against alien forces of the Covenant, Forerunners, and the Flood making this book an absolute must-have for Halo fans.