The Iconic Halo Mega Bloks Master Chief Action Figure
If you are into Halo Mega Bloks, then you know that Halo Mega Bloks Master Chief is A MUST HAVE for any Halo collector. Master Chief is the greatest hero in humanity's war against the Covenant.
First of all, no one knows the Master Chief's full name. It is never mentioned in any of the games, books, movies or comics. Maybe I've missed it, but if anyone of you knows, please put it in the comment section below.
He is only known as Master Chief Petty Officer John-117.
The initial group of Spartan recruits consisted of 75 children. John and 74 others were abducted when they were around 6 years old and secretly taken to the planet Reach for training. Dr. Catherine Elizabeth Halsey personally picked them based on traits that set them apart from normal individuals. They were already in place to have superior strength, intellect, and speed than average by virtue of their genes.
All that was required was to nurture their potential to turn them into the pinnacle of human accomplishment. They were raised for combat.
To fight.
Learned through team building battle simulations, trained in tactics, strategy, and physicality, and became at one with their fellow brothers and sisters. As a result, they are super-soldiers and as such are in some ways superhuman. However, they do not have a healing ability.
John was one of the most skilled and became Master Chief, the de facto leader of the trainees destined to be Spartans.
Halo Mega Bloks Master Chief Figure
One highly collectible, super-poseable Master Chief figure featuring premium printed detail is this Mega Construx Halo Heroes Master Chief Mark IV Armor figure from Amazon. It comes with detachable armor, iconic weapon accessory and deluxe display block.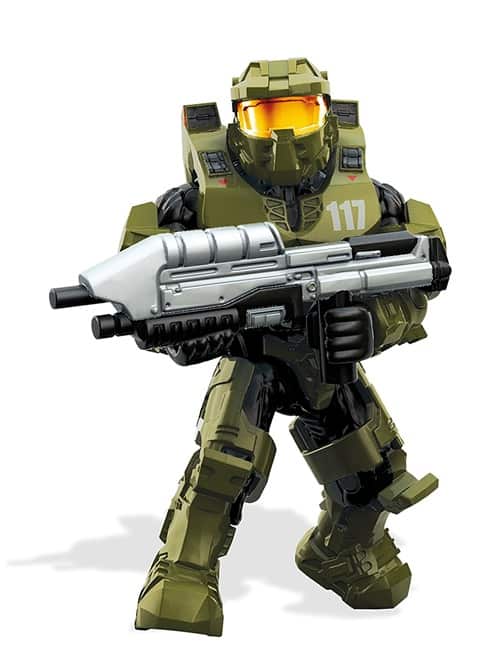 While we were not able to find any individuals Halo Master Chief toys, there are a few Halo Mega Bloks sets with Master Chief.
Halo Mega Bloks Master Chief – Micro-Fleet Warthog Attack
The UNSC M12R LAAV Warthog is a light anti-armor variant of the M12 Warthog. It comes with a 6-rocket barrage for both air and ground targets. There is one new super-poseable UNSC Soldier, the Master Chief, which is based on the Halo 4 Mark VI. It also has a collectible Spartan helmet.
This set comes in 93 pieces. Take note this is micro-scale, therefore, it is small. Other than the Spartan helmet that you can display, the rest is too small. It's available at Amazon if you are interested.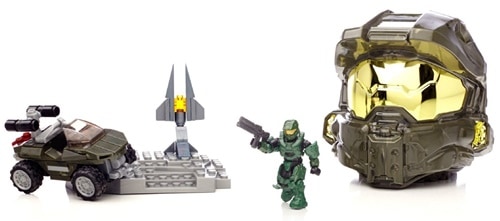 Halo Mega Bloks Master Chief – UNSC Attack Gausshog Building Set
UNSC Attack Gausshog is a heavy-duty variation of the classic Warthog ATV. It comes equipped with a 360-degree rotating Gauss Cannon. The main thing to look at is the iconic Master Chief. It also has the Arbiter micro action figure. Either is a super-poseable, highly detailed design with detachable armor. In addition to that, accessories include an Assault Rifle and an Energy Sword.
In conclusion, this is a better option than Micro-Fleet Warthog.
Halo Mega Bloks Master Chief – UNSC Cryo Bay
This is the beginning of the Halo 4 game campaign storyline. Awakening from the Cryo Bay aboard his space vessel, the Master Chief prepares to receive mission orders from his A.I. Cortana. With ready access to an Assault Rifle, Battle Rifle and Sticky Detonator from the weapons rack, he is prepared to fight enemies of the UNSC in any combat scenario.
This is also a better option than Micro-Fleet Warthog. You can't get a better deal of Halo Action Figures Master Chief other than at Amazon.