Halo Mega Bloks: Best Action Figures For Children Under 10
Halo Mega Bloks is the best choice if you are looking for action figures for the 8 to 12 years age group. We have reviewed many action figures on this blog. Most of them are targetted for adults in mind. I know many are looking for something for those under 10. Especially those super dads who want to share their passion with their sons. Ya, these dads are hard to find.
If you prefer not to share your own collection, why not try Halo Mega Bloks action figures? It's inexpensive and also easy to find new Halo Mega Bloks sets whether online or at the mall.
Why Halo?
First of all, please consider reading our blog post titled How To Start An Action Figure Collection. We recommended that you start with a niche. So that you can limit your collection. As a result, your collection will not be too complicated or difficult to maintain. This is quite important if you are getting this for your children. Especially for a 10-year-old. It helps to keep the child's focus on only one thing. Whether it is Halo or not, the choice is yours.
If you don't already know, Halo is a military FPS video game franchise produced by Microsoft. When Halo: Combat Evolved first came out, it simply excels in so many areas. Many reviewers of that game found it difficult to know where to begin the praise.
The visuals showed that Xbox could churn out great graphics, at that time, while the music was beautiful. Halo is also considered as Xbox's killer game at that time and probably still is.
In addition to the video games, a number of Halo books, novels and other media including audio dramas have been released. These include comic books that were produced by Marvel Comics, live-action film, tabletop games, and even anime series.
In conclusion, it's a complete set to get your kid to stay interested.
Why Mega Bloks?
Mega Bloks is in the building block category similar to jigsaw puzzles and Lego bricks. Building games are known as brain-building games for kids. A good brain-building game is always fun and at the same time educating. I am very sure that you and your child will be glued to it for hours and hours until it is completed.
Mega Bloks have many sets that are based on popular movies and games. Other than Halo Mega Bloks, popular movies like Spiderman and The Pirates of the Caribbean have inspired them to make great looking building block sets. They also have the rights to Need for Speed, World of Warcraft, Call of Duty, Thomas the Tank Engine, Hello Kitty, Barbie, Hot Wheels, and Skylanders Giants sets. Mega Bloks have the edge over Lego by owning these unique licenses.
I especially like the Halo Mega Bloks super-poseable micro action figures because they have articulated joints. You can have a wider range of posing. While this is good, it also means that they are not as interchangeable as LEGO minifigs.
Mega Bloks products are made with quality in mind and. The quality of the products has improved over time, while still cheaper than Lego. Anyway, comparing Mega Blocks and Lego will be a never-ending argument. Let's keep that for another blog post.
Which Halo Mega Bloks Sets To Start With?
I recommend that you start with the vehicle sets. The main reason is that each comes with at least one micro action figures.
There are 5 different types of vehicles that exist in the Halo universe. Four ground vehicle groups – light, medium, heavy, and giant. Another one is the aerial vehicles. Each has different strengths, weaknesses, and purposes, which help to ultimately decide which vehicle to use in which situation.
Halo Mega Bloks Vehicles Set
Light vehicles are usually used to travel for short distances accompanying the infantry units.
The Covenant has:
Ghost – Recon/Rapid Assault Vehicle.
Brute Prowler – Light Recon Vehicle.
Brute Chopper – Rapid Assault Vehicle.
Spectre – Light Recon Vehicle.
Type-48 Revenant – Light Assault Gun Carriage.
While the UNSC has:
Kestrel – Light Assault VTOL.
M274 Mongoose ULATV – Ultra Light Recon Vehicle.
M274-M Gungoose – an armed variant of the Mongoose.
M12 Warthog LRV – Light Recon Vehicle.
M12A1 Warthog LAAV – Light Anti-Armor Vehicle.
M12G1 Warthog LAAV – Light Anti-Armor Vehicle.
M12R Warthog LAAV – Light Anti-Aircraft Vehicle.
M831 TT – Light Troop Transport Vehicle.
Halo Mega Bloks Warthog
The one that interests me the most is the UNSC's primary ground transportation vehicle – the Warthog. The Warthog is a four-wheel all-terrain vehicle. It has several variants differentiated by the mounted weapon systems.
This set comes with 2 Spartan Gungnir. Two new super-articulated micro action figures in gold and crimson, with black armored tech suits. The Warthog has actual working suspension while the turret can rotate 360 degrees. Weapons and accessories that come with the set include a tactical shotgun, LMG, and a target locator. This set has 207 pieces.
Get the Halo Mega Bloks UNSC Flame Warthog from Amazon
Halo Mega Bloks UNSC All-Terrain Mongoose
In addition to the Warthog, another light vehicle is the UNSC All-Terrain Mongoose. The Mongoose is a four-wheel all-terrain vehicle and is one of the fastest and most maneuverable ground vehicles in the arsenal of the UNSC.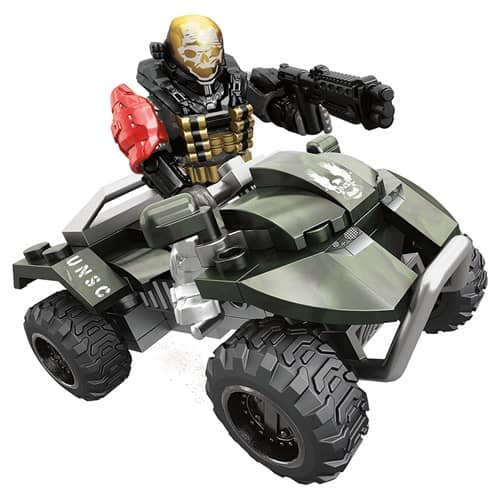 While the Warthog set comes with Spartan GUNGNIR, the Mongoose comes with one super-articulated micro action figure. It has black armored techiest, upgraded articulation and customizable armor system. Weapons and accessories that come with the set include a tactical shotgun and a Kukri knife. This set has 82 pieces. With a smaller number of pieces, it's probably easier to build.
Get the Mega Bloks Halo UNSC All-Terrain Mongoose from Amazon
Finally, what do you think? Will Halo Mega Bloks get your son interested in your passion? Feel free to share your thoughts in the comment section below.
Moms, if your husband likes action figures, get him to read this 🙂 or buy these Halo action figures for him.