Marvel NOW! Avengers #1 Comic Review
I will be doing some throwback review for a while and this time I am choosing 2012 Marvel Now! Avengers #1. I noticed that there are still many comics in my box which I have done any review. Anyway, it will not be in order. I will just pick up whichever I like.
As usual, when I have a new comic book on my hand, the first thing I do is to go through every page. Enjoying the art and trying to understand what is it all about without actually reading it. This way, when I start reading, I don't have to pause too long at each page trying to relate the story and the art. Everyone has their ways of reading comics, this is how I do it. And while digital comics are expanding, I still love the feel of holding it in my hands, rather than reading it through my handphone or tablet.
What is Marvel NOW!
Marvel NOW! is a 2012 comic book branding for the relaunch of several ongoing comic books published by Marvel Comics. In other words, there are a lot of new #1 issues. Sound very similar to DC's New 52, but being done in a different way.
After finished reading Avengers #1. I didn't feel excited. It was a different feeling, unlike Superman Unchained. I went through a few other reviews. IGN gave Marvel Now! Avengers #1 an 8.2 out of 10.
I don't think Avenger #1 deserves it.
Firstly, the cover. If it's a Captain America comic book, then I don't mind. The title of this comic book is Avengers, it is a team and not Captain America. Especially when this is the #1 issue.
It's the first issue and only a part of Iron Man's right leg was seen. I assumed it's his, but what would Avengers be without Iron Man. Too much focus on Captain America while the lights from the back overshadow the rest of the team.
Four pages were given to title and credits? And Marvel is charging USD3.99 for this 😛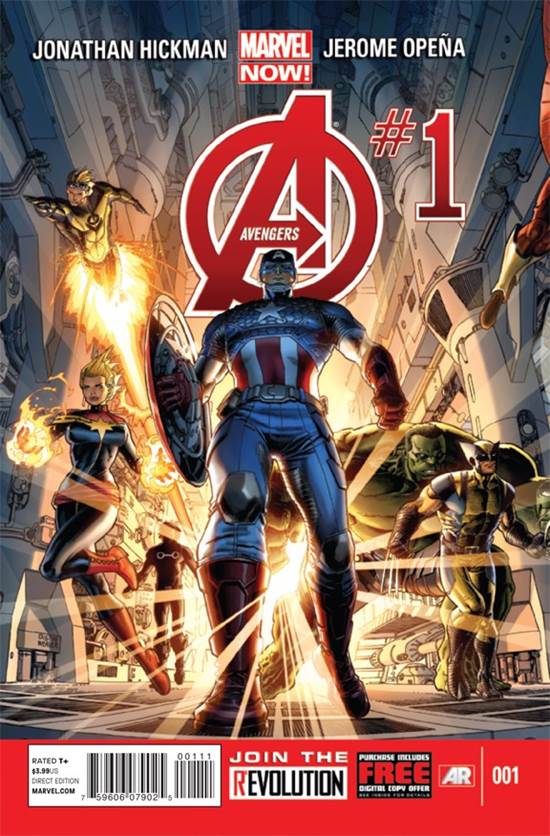 Marvel Now Avengers 1 Review
The story started with two men. It started with an idea – "We have to get bigger". Somehow, I just don't get it. Almost all of the superheroes in the Marvel Universe was an Avenger and now they have to get bigger? And with the tagline of "the earth's mightiest heroes", seeing Thor and the rest of the team got beaten up easily in the first issue, just doesn't boil down.

But taking the fact that this is a restart, I am still OK with it.
The story doesn't fall in place straight away in the very first issue. An introduction of an opponent, a yellow-colored horn thing, capable of taking out Thor, Iron Man, Hulk and the rest of the team is out of the ordinary. The team starts with 6 Avengers, taking a cue from the Avengers movie team. Then the battle with a new villain with no previous history adds a little bit mystery to it and finally at the ending, a glimpse of the extended Avengers.
It's the start of something big and Hickman is doing it in a different way.
Jerome Opena's art is detailed. I liked the Thor vs Hulk panel, but I find it too short. The new villains, Ex Nihilo and friends, are truly unique. I didn't like Captain America's new costume.
I hope to see better in future issues. Not so great and not so bad first issue. I had to read it twice just to get it.
Marvel Now! Avengers #1
Written by Jonathan Hickman
Art by Jerome Opena
Cover by Dustin Weaver
Marvel Comics
Release Date: December 5, 2012
Cover Price: $3.99