3 Halo Action Figures That Will Ignite The Kid In You
With the all-new Halo Infinite coming next year, I think it's about time to get excited with Halo action figures too. What is a video game without its action figures and comics?
Since I've been posting a lot on Halo lately, let looks at 3 of the best and affordable Halo action figures.
I am very sure these will ignite the kid in you …… and the purpose of this blog – Why Should I Grow Up?
Before that, let's look at the video game first. Halo Infinite is set after the events of Halo 5 and will continue the Halo 5: Guardians storyline. From the trailer, it looks like Master Chief will get a fresh look, especially the helmet.
Halo Infinite – "Discover Hope" Cinematic Trailer
The Master Chief Collection is also coming to the PC this year, featuring Halo: Reach, Halo: Combat Evolved Anniversary, Halo 2: Anniversary, Halo 3, Halo 3: ODST Campaign and Halo 4.  It's optimized for PC with mouse and keyboard support, native PC features and up to 4K UHD and HDR. Cool isn't it.
Back to Halo action figures …
1. McFarlane Halo 5: Guardians Series 1 Master Chief Action Figure
For the first Halo action figure, let's look at the McFarlane Halo 5 Master Chief. This is from the Guardian Series.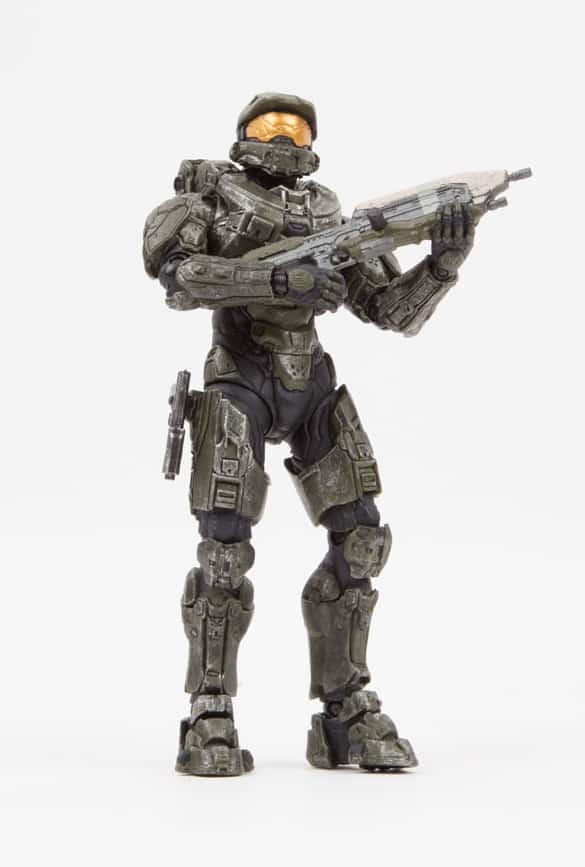 If Halo is your favorite video game, then you will love Master Chief. It's an awesome looking figure and will fit well on any Halo shelf. The Mjolnir armor is very detailed and the limbs can be moved for posing, but do take note that the movement is limited.
This Master Chief figure includes an in-game REQ PACK code that you can redeem for Halo 5 Guardians in-game content. It contains a variety of unlockable weapons, armors, skins, assassination animations, and more. Useful if you have Halo 5.
Each figure is paired with game-accurate weapons and in this set, Master Chief is equipped with an Assault rifle and Magnum handgun. The Assault rifle has a sand color to the top of it, while at the bottom front grip, it's olive green.
Each thigh has a hole in its side that you can place a the Magnum, while the rifle can be put on Master Chief's back.
This Halo action figure stands approx 6″ tall and the figures average 25 points of articulation. Just the hip articulation holds this back from being superb. It's just not flexible enough.
One of the best Halo figures from McFarlane. Get this from Amazon.
Or, you can get the Halo 4 Master Chief version with Micro Ops Cortana and the Asymmetric Recoilless Carbine-920; aka the Railgun.
2. Kotobukiya ARTFX+ Halo: Master Chief 
Another cool way to show off your love of Halo is to get this Halo Master Chief ARTFX+. The iconic green and gray armor with gold Faceshield and the battle rifle is from Halo 4.
Although it is marketed as a statue, it features limited articulation providing more posing options than the standard ArtFX Statues. Allowing for multiple looks and poses, making it more like a figure than a statue.
Stands 8.3 inches tall – 1/10th scale
Includes magnet is the feet for extra stability on the included base
Armor can be easily slides and/or snaps into place.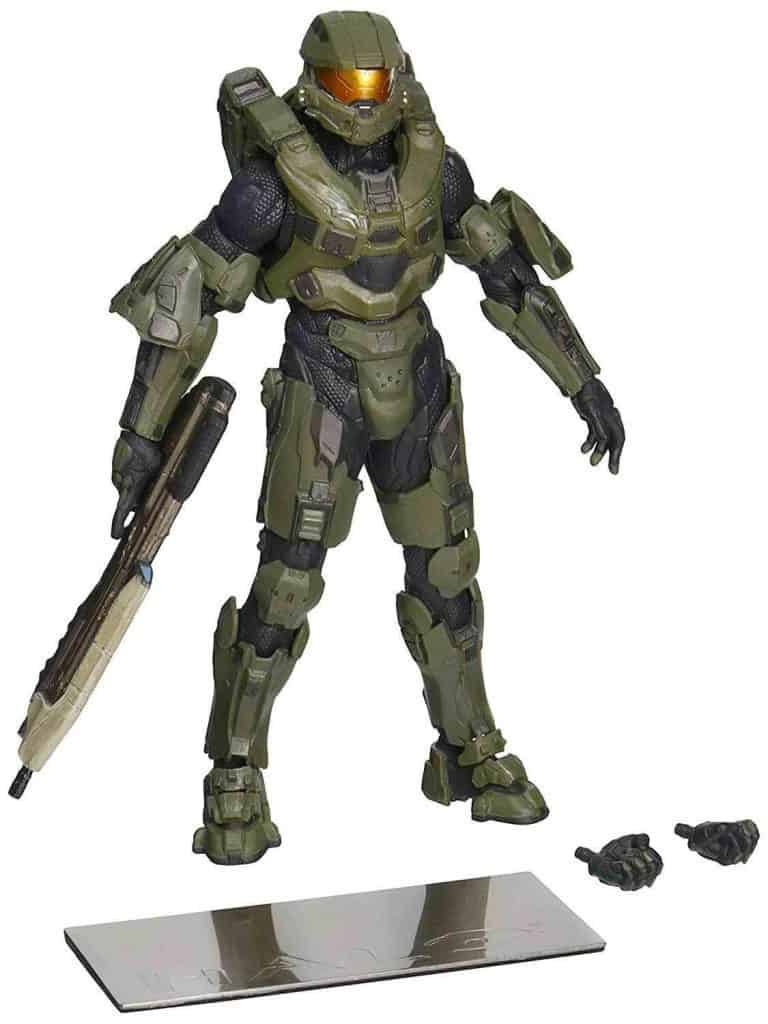 Since this is a Japanese import, the instructions will be in Japanese. Just ignore the Japanese wording and follow the 'pictures', you will not have any problems with the assembly process.
IF you are getting the Kotobukiya ARTFX, it's best that you get the Kotobukiya Halo: Mjolnir Mark VI Armor set.
It is a special add-on armor pack for use with the master Chief Halo 4 ArtFX+ statue. You can use this expansion armor to further customize your action figure.
3. Square Enix Halo 5: Master Chief Play Arts Kai Action Figure
This Halo action figure comes with
1 x Main figure
1 x PLAY ARTS kai base
1 x MA5D Assault rifle
1 x M6H2 Magnum Handgun
1 x Gun attachable parts
1 x Optional head parts
4 x Optional hands
This action figure has realistic damage and weathering on the Mark VI Mjolnir powered suit. Showing that Master Chief has gone through many battles.
It comes with 2 weapons, MA5D Assault Rifle and M6H2 Magnum. You can have Master Chief holding the M6H2 Magnum. The MA5D Assault Rifle can be holstered by attaching it to the armor.
Included with the figure is an interchangeable helmet with the cracked visor. Get it from Amazon.
See our other post on Halo action figures, statues, and Funko Pop: