Spider-Man Superhero Stories for All Ages
Ask most kids who Spider-Man is, and they'll tell you all about how Peter Parker gained his amazing superpowers after being bitten by a radioactive spider. But ask those same kids about the last Spider-Man comic book they read, and you'll probably get a lot of shrugs and confused looks.
Although Spider-Man has starred in Marvel Comics' The Amazing Spider-Man comic book for almost fifty years, not many kids today know him as we do. Most kids today know about Spider-Man only through his movies, video games, or animated cartoons – while his comics are mostly read by long-time fans who enjoy the comics' more complex and adult-themed plots.
For kids interested in reading all-age-friendly Spider-Man comics, Marvel Comics has a line of Spider-Man Marvel Adventures comics set in a universe separate from The Amazing Spider-Man. Starring a teenage Peter Parker just starting as Spider-Man, the book features all-new stories about Peter's attempts to juggle his personal life with his superhero responsibilities.
The following reviews look at two digest-sized graphic novels that provide a good starting point for readers interested in following this Spider-Man's comic book adventures. You could also use these comics to promote healthy reading habits in kids.
Marvel Adventures Spider-Man: Thwip!
When Peter Parker saves teenage girls Emma Frost and Sophia "Chat" Sanduval from a falling sign, he never suspects that Emma has the mutant ability to hear thoughts – or that she's just read his mind and learned he's Spider-Man!
Convincing Chat (who has the mutant power to talk to animals) to go to Peter's school and learn more about him, Emma is shocked when Chat befriends Peter and starts dating him. But Emma and Chat aren't the only ones in on Spidey's secret – police captain George Stacy has also deduced Peter's identity and wondered if he should make Spider-Man help the police with their cases.
As Peter struggles with these new developments, Spider-Man faces his own problems as he battles the Torino Gang, a powerful New York mob, which puts him into conflict with carjackers, thugs, and the super-villain; known as Tombstone!
Collecting issues #53-#56 of Marvel Adventures Spider-Man (which begin this Peter Parker's adventures), Thwip! is a fun graphic novel loaded with action and heart. Although aimed at younger readers, the stories have enough drama, comedy, and romance to keep older Spider-Man fans interested.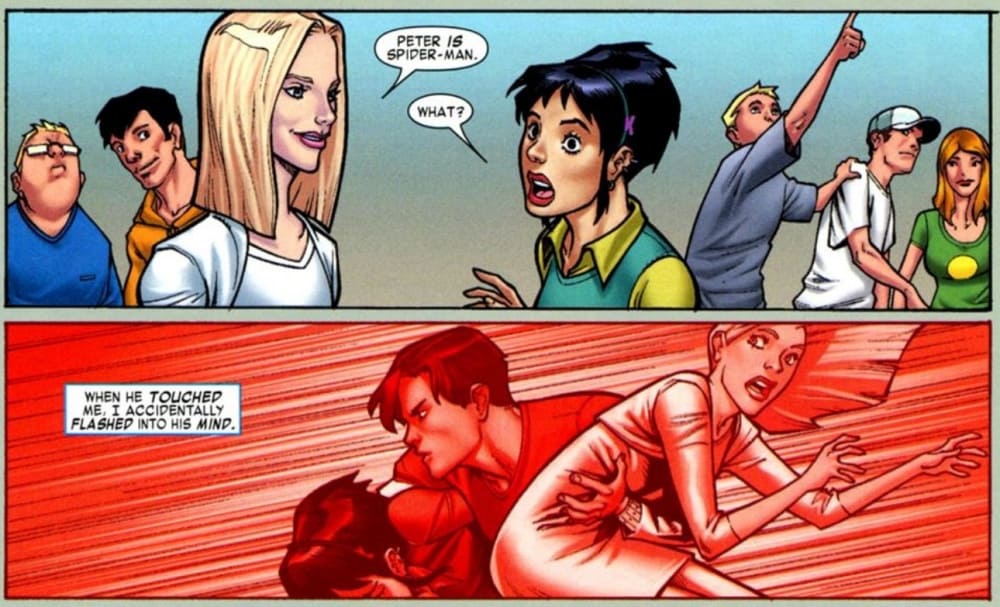 While writer Paul Tobin is familiar with Spider-Man's original adventures, he often gives new twists to the old stories. Back in the 1960s, Peter always lied to the girls he dated to protect his secret identity. This time around, Chat (a likable, all-new character) not only knows Peter is Spider-Man but is also hiding her own mutant identity.
It's a shift in the usual Spidey romance, which makes the stories unexpected and original.
Spider-Man fans will also appreciate the book's artwork by Matteo Lolli. He depicts Spider-Man as a short, skinny teen – making his fights more dramatic as he uses his superpowers to defeat larger opponents. Lolli is also great at drawing crowd scenes and often includes sight gags with the students at Peter's school or the birds and squirrels hanging around Chat, which are amusing to catch as fans re-read this fun graphic novel.
You can get the Marvel Adventures Spider-Man: Thwip! from Amazon.
Marvel Adventures Spider-Man: Peter Parker vs. the X-Men
When readers left Spider-Man in Marvel Adventures Spider-Man: Thwip!, he was battling the Torino Crime Family, a New York mob that had been threatening his friends. Now the Torinos have put a contract out on Spider-Man, forcing Spidey to battle dozens of thugs all looking to collect the bounty.
Fortunately, Spidey gets help from police captain George Stacy, who deputizes Spider-Man and improves his relationship with the police. Peter's civilian life also improves when his girlfriend Sophia "Chat" Sanduval comes clean about knowing his secret and reveals her superpowers.
But just as things start looking up, Spider-Man winds up fighting the X-Men, a team of superhuman mutants that may want to take Chat away. If this wasn't bad enough, Chat's friend Emma Frost returns as the Silencer, a super-villain capable of manipulating people's minds, with her own plans for Spidey and his friends.
Collecting issues #58-#61 of Marvel Adventures Spider-Man, this digest brings many of the storylines started in Thwip! to a satisfying resolution.
Tobin's characters remain a high point as readers watch Chat go from an insecure girl to an effective heroine. At the same time, George Stacy evolves into both a father figure and confidant to Peter.
That said, this particular digest does have a few flaws as it skips an issue (Marvel Adventures Spider-Man #57), which introduces the Silencer and includes Chat's confession. Tobin also works with three artists who depict the characters differently in each issue/chapter, making the artwork uneven.
Despite this, Tobin's fun storyline still makes Peter Parker vs. the X-Men a great read. 
You can get the Marvel Adventures Spider-Man: Peter Parker vs. the X-Men from Amazon.
There you go, two trade paperbacks for you to choose from, if you don't know where to start.
For more option for beginners in comics, please read our article on How To Start Reading Comics.