Unboxing Play Station 3 SOCOM 4
I bought SOCOM 4 U.S. Navy SEALs Full Deployment Edition a few months back. Playing games is what I do when I am not reading comics.
I have completed Socom 4 and now playing Modern Warfare 3. Between these two, I like Modern Warfare 3 better. However, in terms of gameplay, MW3 is much shorter than SOCOM 4. I finished MW3 in 2 days, but a few weeks on Socom 4. Maybe it's due to I started to play MW3 on weekends while SOCOM 4 was played on weekdays and also with the PS Shooter. It took a while to get used to it.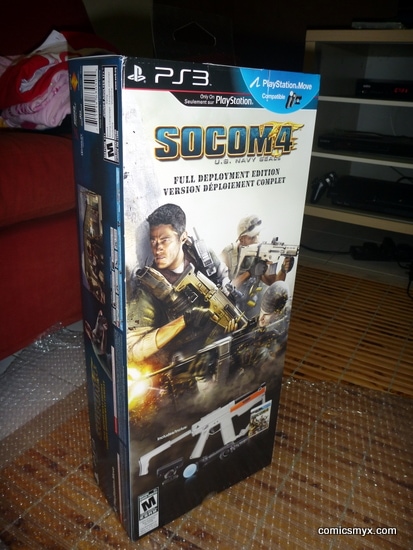 What's Inside SOCOM 4 Move & PS Shooter Bundle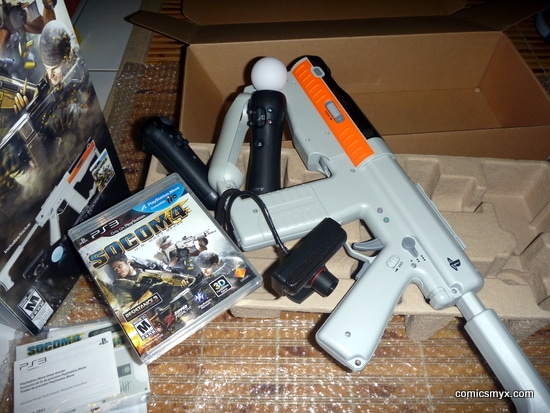 This is my son with the PS Move Shooter.
If you are planning to get a move set for your PlayStation 3, get the bundle as I did with SOCOM 4. The bundle set is much cheaper than if you buy them separately. At Amazon, it's only $99.99. SOCOM 4: US Navy Seals Full Deployment Edition contents:
SOCOM 4 US Navy SEALs Blu-ray disc
PlayStation Move motion controller
PlayStation Move navigation controller
PlayStation Eye camera
PlayStation Move Sharp Shooter gun peripheral
Although SOCOM 4 is not the latest shooter, please check it out. Old title price tends to drop.