Wolverine Comics Vol 7 – An Impressive Effort
Finally, it's time to read my Wolverine comics. I have Wolverine Vol 7 issues 1 to 6 already.
It is the year of Covid-19. Like everyone else, I have been spending a lot of my time indoors. I can't wait to read the Wolverine comics when issue 1 is out, but could not do so while working from home. Now that I got most of my things sorted, it's Wolverine comics time.
Wolverine Comics: Wolverine #1 – The Flower Cartel & Catacombs
It has been a long time since I read a Wolverine solo comic series. I was expecting the typical Wolverine violence, but this was different. I have to admit that I love this issue. It is so good to have Logan back, and glad that I got it on my pull list.
It should be in the pull list of all Wolverine fans.
The comic artwork and writing are nothing short of fantastic. The comic book was so entertaining that it kept me on the edge of my seat.  It took some time to read the 60+ pages. Although it was dialogue-heavy, but I was locked in from page one through to the last.
You get to see the Wolverine happy, confused, scared and everything.
The comic has the similar data pages that you can find in X-Force. The in-between data pages that explain other related things, help in the storytelling. Useful for readers to understand more about Krakoa. It adds depth to the story and characters.
The Order of X

There have always been those humans who recognized mutants as higher beings, touched by divinity. But since the declaration of sovereignty, their numbers have grown dramatically, as if the new dawn broke with an ethereal light.

At this time, the Order of X has no definitive leader or practice or text or belief system. No roof over its church, so to speak.

But there are commonalities evolving among the various branches and thousands of parishioners worldwide.

They regularly gather around Krakoan gates, prostrating their bodies, praying and pleading. Should a mutant appear, some parishioners will collapse in seizure and speak in tongues. Others will rush the mutant, their hands hungry for a touch, as if some essence might carry over to them.

There have been reports of men and women disrobing and offering themselves naked to the mutants. Their bodies are altars upon which they might produce the ultimate form of worship: a child that carries the X-Gene.

Some branches wear an X around their necks like a crucifix or Star of David, but scarification and branding seems to be the standard for adornment. Xs are sometimes carved over the eyes or across the chest or the face, but the mouth is the most frequent site for etching.

Though their overall theology appears to be based on devotion and humility, there are extremists who appear to believe that the sacrifice and consumption of Homo superior is the path to a higher plane.
Wolverine #1 is a double feature oversized comic book. There are two stories in the first issue. Both penned by Percy, but illustrated by different art teams.
The Flower Cartel
The Flower Cartel was about Wolverine's encounter with the Pale Girl from the Flower Cartel. He was sent on a mission, together with the X-Force, to find out who was stealing the Krakoan flowers and selling them in the black market. And why does the new drug called pollen is so deadly.
Wolverine comic art by Adam Kubert and colorist Frank Martin.
Catacombs
Catacombs was about vampires and their bad intentions toward the mutants. Logan got to know that Omega Red came to Krakoa badly injured. He decided to investigate thinking that Omega Red was up to something.
He found about the vampires and their master, and the bargain Omega Red made with them. Omega Red has never been more sinister.
The second story art is by Viktor Bogdanovic and colorist Matthew Wilson. 
I went into reading the first issue with low expectations after 2020 iWolverine ….
After completing the first issue of Wolverine comic, I think Wolverine is finally given a worthy effort again and the creative team has created the single best Wolverine issue in years. Worthy to be listed as one of the best Wolverine Comics of all time.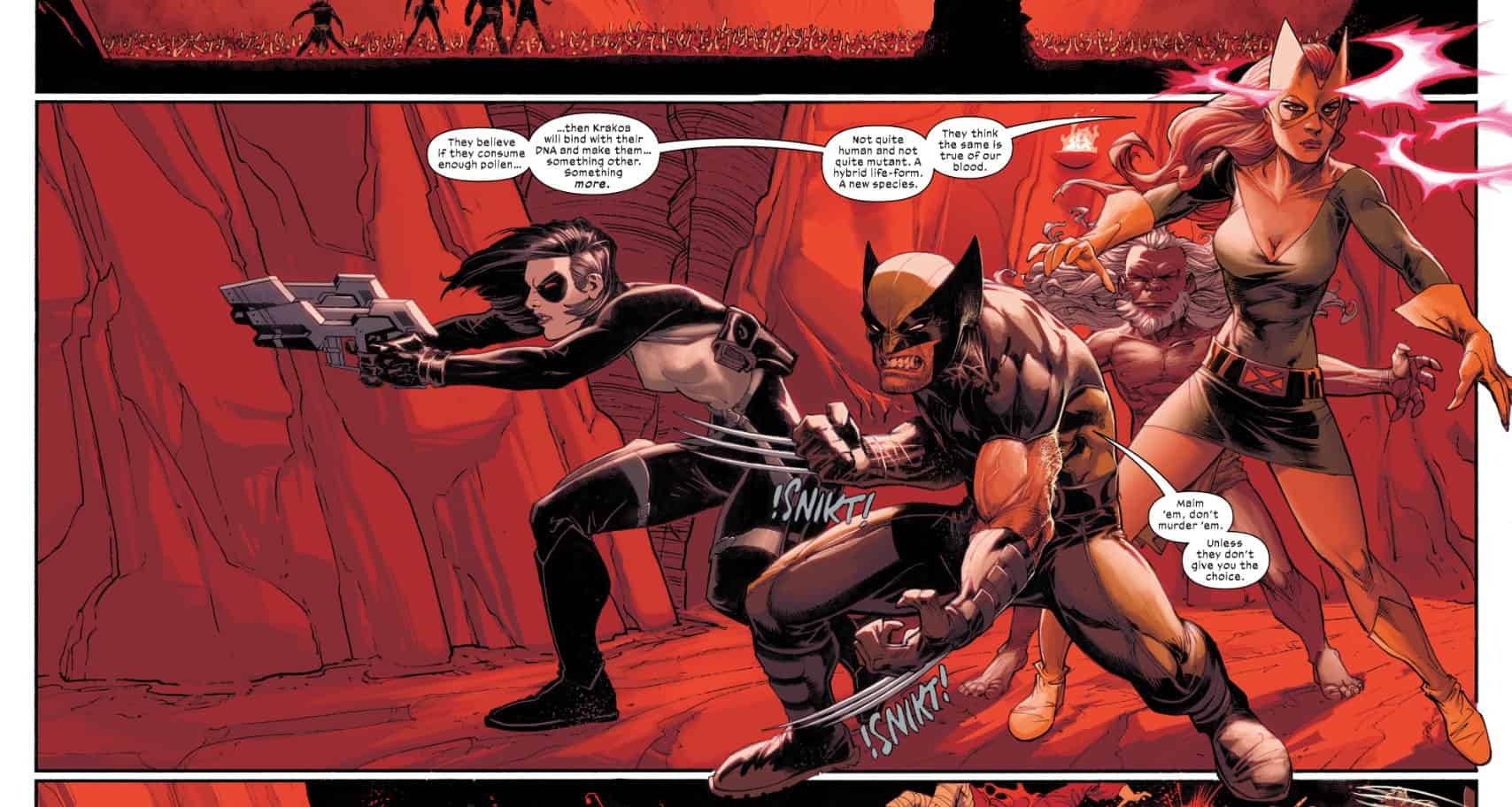 Wolverine #1
Story By: Benjamin Percy
Art By: Adam Kubert, Viktor Bogdanovic
Colors By: Frank Martin, Matthew Wilson
Letters By: VC's Cory Petit
Cover By: Jason Keith, Skottie Young, Rahzzah, Adam Kubert, Jim Lee, Frank Martin, Marte Gracia, Gabriele Dell'otto, Chip Kidd, R.B. Silva, Jee-Hyung Lee
Release Date: February 19th, 2020