The Incredible Hulk #2: That Old-Time Religion, Part 1
The Incredible Hulk #2
Publisher: Marvel
Writer: Phillip Kennedy Johnson
Artist: Nic Klein
Colorist: Matt Wilson
Letterer: Cory Petit
Cover Artist: Nic Klein
Published: July 26, 2023
The Mother of Horrors demands her freedom! And in order to make it happen, her most dutiful servant – a terrifying monstrosity who calls herself the Eldest – seeks to reclaim that wayward son of monsters: the Hulk himself. Now every eldritch horror and primordial being has its eyes set on the Jade Giant! Meanwhile, on their path to peace and isolation, Banner and his new friend Charlie find themselves forced to pass through an abandoned coal mining town…but when night falls, the term "ghost town" takes on a terrifying new meaning.
Get a copy: Amazon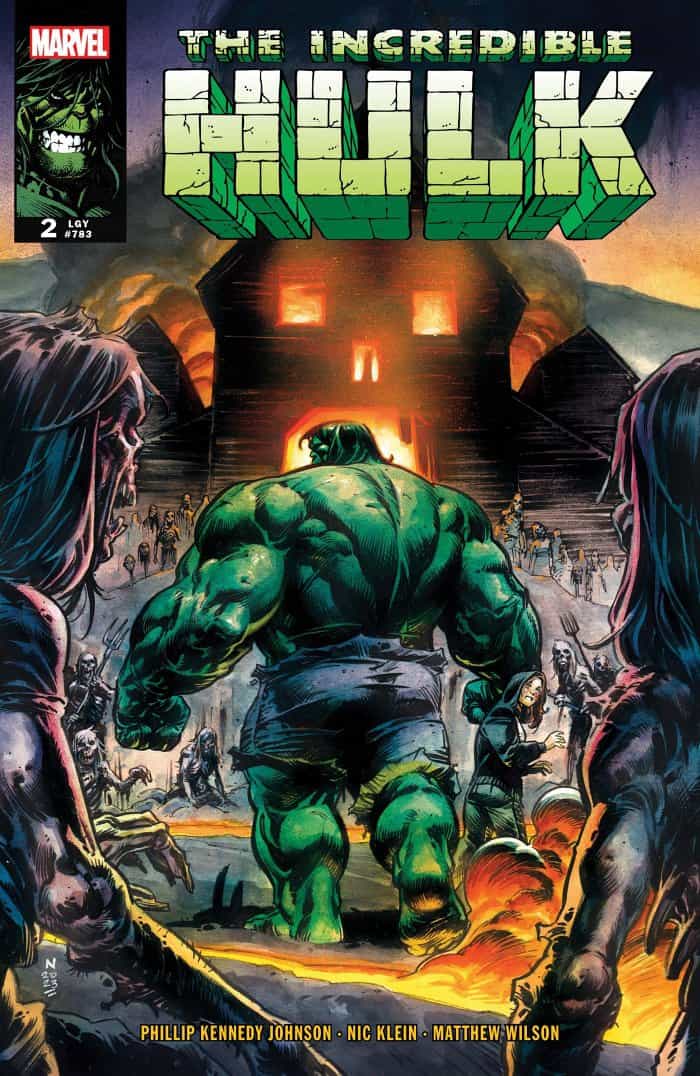 The Incredible Hulk #2: Hulk, Horror, and Southern Horrors Unleashed
Hold on to your gamma-irradiated hats, Marvel fans, because The Incredible Hulk #2 is here to shake the comic world with a fierce and gruesome grip! Phillip Kennedy Johnson and Nic Klein have cooked up something absolutely smashing in what can only be described as the raddest book currently gracing the Marvel Comics lineup.
OK .. OK .. I may have gone overboard there.
A Throwback to Classic Horror
This second issue plunges us even deeper into the dark and chilling world of southern horror and chilling religious ties that were tantalizingly teased in the first installment. But hold on to your radiation suits; this issue might be named after the Hulk, but the big green guy doesn't even make an appearance until the final page! Sounds like a bummer? Far from it. This backwoods zombie revival is as thrilling as any Marvel comic could hope to be.
The creative team behind this comic clearly knows their horror roots. It's like a throwback to the golden days of EC (Entertaining Comics) and Warren Publishing (more info at the end of this article), drenched in desperation and tension. The argument between Bruce and Charlie sets the stage for a wild ride, as they encounter the sudden, chilling appearance of the undead. Sister Sadie, their undead leader, has a bone to pick with the Hulk, and it's not one you'd want to get caught in.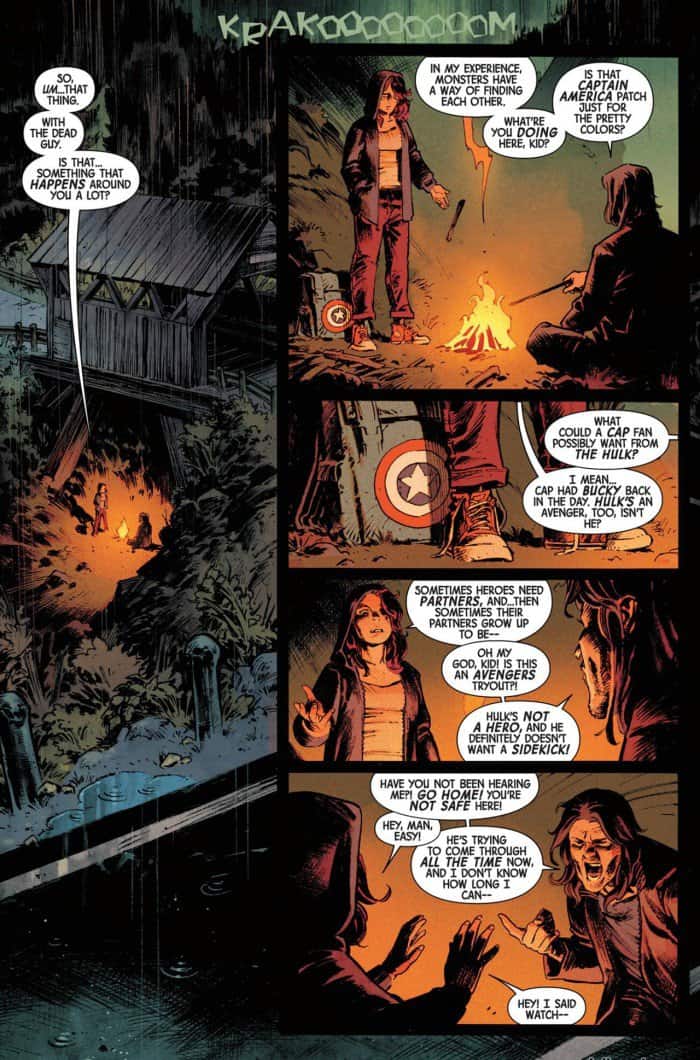 Immersive Visuals and Compelling Writing
Nic Klein's art is an absolute showstopper in this issue. It's so mesmerizing that you could probably read it without dialogue and still get the chills. Every scene is masterfully depicted through body language, color, and creative paneling. It's a visual feast that grabs you and doesn't let go.
But let's not forget about Phillip Kennedy Johnson's writing. He's got a knack for blending exposition and plot advancement in a way that keeps the reader hooked. This is particularly crucial in an issue like this, where it's all about setting up the relationship dynamics between Bruce, Hulk, and Charlie. The tension among these three is as suspenseful as a loaded gun, and we're loving it!
Dark Pacing and Suspenseful Storytelling
This comic is turning Hulk into a proper horror story, and it's a change we can get behind. The plot is dark, engaging, and teeming with horror elements. The internal conflict between Banner and Hulk keeps getting more intriguing. You can almost feel it bubbling to the surface.
Exploring the Depths of Hulk's Identity
Banner's internal struggle with the Hulk is genuinely engaging. The whole story is a build-up of not just the external conflict with monsters but the internal conflict between Banner and Hulk. It's a journey from fractured to prodigal son, and we're excited to see where it leads.
Confronting Unseen Forces
The dark forces in this comic are no joke. The creatures they're up against aren't just brawny; they've got a belief system and an audience! And if you've ever wondered what scares Bruce, just look at those opening scenes – they'll give you the heebie-jeebies.
Humor and Wit
But let's not forget the humor. After all, even the Hulk has his moments. It's not every day you get to see a giant green behemoth discussing deep philosophical questions, right? Monsters have a way of finding each other, as Banner wisely points out, and that's what keeps the world of comics so delightfully peculiar.
Conclusion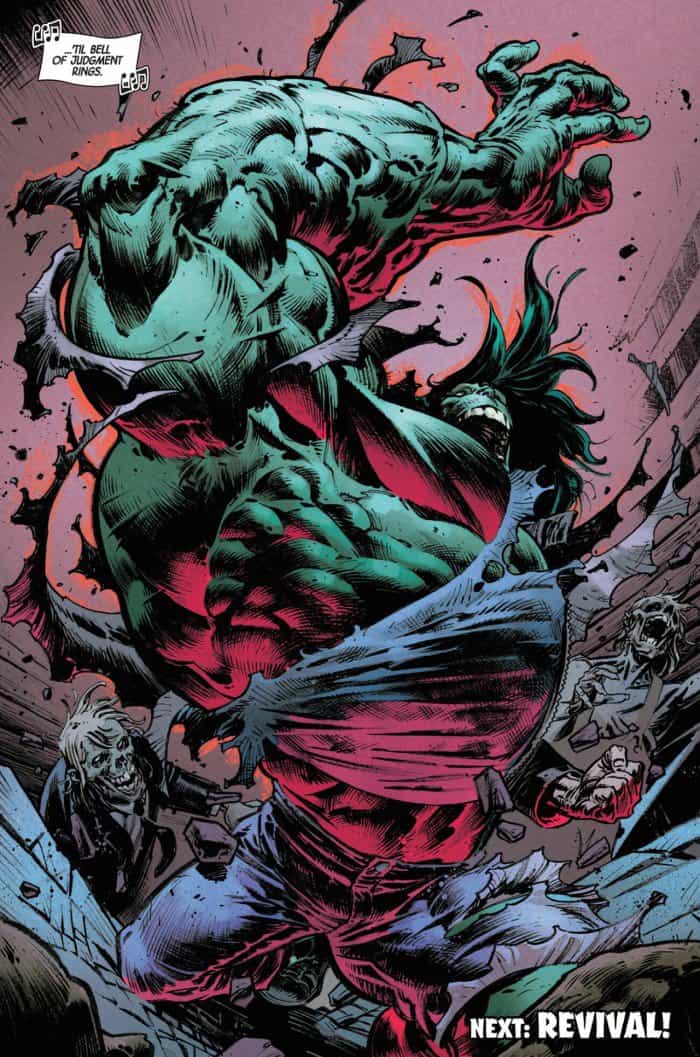 The Incredible Hulk #2 is a gripping blend of horror and internal conflict that takes the reader on an eerie and atmospheric journey. It sets the stage for a showdown where redemption and coexistence are on the line. The real question is, can the Hulk and Banner find a way to share their own skin without tearing it apart? With the Mother of Horrors in the mix, it's bound to be one rollercoaster of a ride.
Gear up for a wild and gruesome adventure, because this series isn't pulling any punches. It's time for Hulk to face his demons, and he's going to need all the help he can get. Stay green, folks!
If you don't have a copy yet, get a copy of The Incredible Hulk 2 from Amazon. And please also read our review on Incredible Hulk (2023) #1.
FYI on EC (Entertaining Comics) and Warren Publishing
EC (Entertaining Comics) and Warren Publishing are well-known comic book publishers with notable histories in the comic book industry.
EC (Entertaining Comics): EC Comics was a significant comic book publisher during the early and mid-20th century. They were known for their diverse line-up of comic books, including horror, science fiction, crime, and war comics. EC is particularly famous for its horror titles like Tales from the Crypt, The Haunt of Fear, and The Vault of Horror, which often featured macabre and unsettling stories. These comics were known for their high-quality artwork and their use of the Crypt-Keeper and other ghoulish hosts. EC Comics played a vital role in the history of horror comics.
Warren Publishing: Warren Publishing was a comic book and magazine publisher known for its horror and science fiction magazines, such as Creepy and Eerie. These magazines featured illustrated horror stories, similar in style to EC Comics. Warren Publishing was notable for its use of black-and-white artwork, and it provided a platform for many talented artists and writers to showcase their work in the horror and dark fantasy genres.
During these golden days, they produced some of their most iconic and well-loved works, setting the standard for horror and other genre comics. For EC Comics, this period was primarily the early 1950s, and for Warren Publishing, it was the 1960s and 1970s. These were times when they were producing groundbreaking and memorable content that left a lasting impact on the comic book industry.