World War Hulk: Marvel's Incredible Hulk is Mad
Cross-over and precluding events also occurred in Incredible Hulk #107-111 and Word War Hulk: Frontline #1-6. Ghost Rider, Uncanny X-Men, and Iron Man also dedicated issues to World War Hulk events.
World War Hulk Follows Marvel's Civil War
Just as things were calming down after the dividing events of the Civil War, the Marvel universe's superheroes, registered or not, are faced with one of their most significant emergencies of the year. The Incredible Hulk returns to Earth after being sent to outer space and proclaims, Hulk MAD!
Hulk is bent on revenge against those who sent him into space, namely Iron Man, Mr. Fantastic, Dr. Strange, and Black Bolt, and Hulk plans to destroy them all.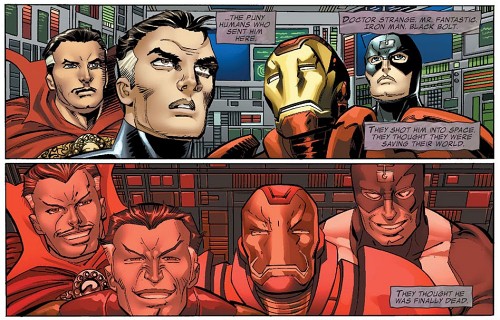 The superheroes are forced to reunite to take Hulk down from his rampaging path of destruction. World War Hulk is the first test of the newly formed 50 State Initiative, and it also tests the willpower and brevity of the unregistered superheroes still on the run from the Civil War.
World War Hulk: How It Started
Over growing concern for casualties of superhero combat, Iron Man, Mr. Fantastic, Dr. Strange, and Black Bolt united to figure out what to do with the Hulk. The Hulk is the alter ego of physicist Bruce Banner. He is childlike in thought and logic and grows stronger and more destructive with intense emotion. Banner is unable to control Hulk when he transforms. Hulk often causes millions of dollars in damage and imposes danger on his enemies and whoever stands in his way, making him a serious safety threat to the non-superhero population.
Thinking of the safety of the rest of the world, Iron Man, Mr. Fantastic, Black Bolt, and Dr. Strange hatch a plan to get Hulk into space. They get together and explain to Hulk that he must help take out a rogue S.H.I.E.L.D. satellite. Hulk complies and is sent up to space in a shuttle. What the guys didn't tell Hulk is that when he is through, his ship will not return to Earth.
Hulk Lands on Sakaar
Instead, after Hulk destroys the rogue satellite, Iron Man tunes in to Hulk's shuttle to explain that he is not returning to Earth because he is too dangerous and, instead, he'll be going to a distant planet. This upsets Hulk, who promptly smashes the shuttle's console, altering its trajectory.
Hulk's shuttle goes through a space portal and lands on a planet called Sakaar. The planets' inhabitants think he is a god and even gives him several names; Green Scar, Holku, and Sakaarson. Hulk eventually takes a wife on Sakaar, who becomes pregnant with his child. It seems that all is well with Hulk's new life until suddenly, a bomb on the shuttle explodes, killing his new wife, unborn child (so he thinks), and millions of the planet's inhabitants.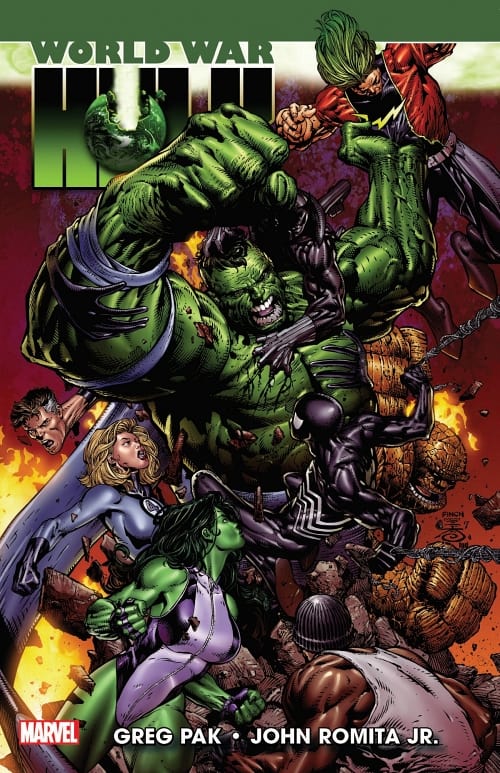 That basically about how World War Hulk got started. To know what happens next, then you need to get the series.
Exiled to the savage alien planet of Sakaar, the Hulk raged, bled and conquered – rising from slave to gladiator to king. Now the Hulk returns to Earth to wreak his terrible vengeance.
Marvel events can sometimes be confusing, actually always confusing. Reading World War Hulk series alone is enough for you to understand what's it all about. But if you are interested to know every detail, then the omnibus can help you with that.
Collects: World War Hulk Prologue: World Breaker, World War Hulk 1-5, Incredible Hulk (2000) 106-111, Iron Man (2005) 19-20, Avengers: The Initiative 4-5, Irredeemable Ant-Man 10, World War Hulk: X-Men 1-3, Ghost Rider (2006) 12-13, Heroes For Hire (2006) 11-15, Punisher War Journal (2007) 12, World War Hulk: Gamma Corps 1-4, World War Hulk: Front Line 1-6, World War Hulk: Aftersmash One-Shot, World War Hulk Aftersmash: Damage Control 1-3, World War Hulk Aftersmash: Warbound 1-5, Planet Hulk Saga
If you are into action figures, Marvel Legends Series 80th Anniversary Hulk and Wolverine is one of my favorite, read about it here.
Marvel Universe World WAR Hulk with Long Sword, Battle Axe, Shield and Figure Display Stand
Includes: WORLD WAR HULK with Long Sword, Battle Axe, Shield and Figure Display Stand
Figure measured approximately 4 inch tall