1 Reason To Buy X Force Sex And Violence Limited Series
Don't be tempted to get X Force Sex And Violence just for the title. This book is more about violence than sex. The only sex in the comics is at this part, and it is only 2 pages long: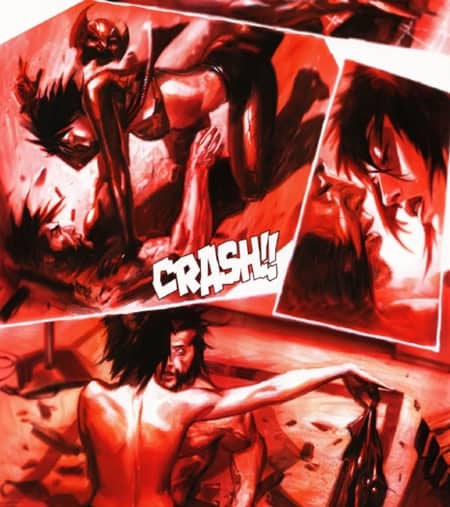 Look at Wolverine's reaction to Domino's boobs 🙂
I was quite bored with the regular titles I am reading, so I decided to get something else. Ya, the title did tempt me to get it.
Anyway, if you enjoy comics with lots of blood, then this is the one. This limited series deserves to be in your collection. X-Force: Sex & Violence is a 3 issue mini-series in which Wolverine helps out Domino after she gets into trouble with the Assassin's Guild. Wolverine and Domino have always had a special relationship, but everything goes messy when the Assassins Guild puts out a hit on her … and many people died before Wolverine and Domino could spend some quality time.
Art by Gabriele Dell'Otto is just brilliant. You know what to expect from Del'Otto. His art is always in dark backgrounds.
Why Should You Buy X Force Sex And Violence?
I usually don't care who writes or who draws or who inks the comics, but sometimes a good work deserves to be mentioned.
The art is good, just that the story is not as good.
Get your own copy of X-Force: Sex and Violence from Amazon.