4 of The Best Wolverine Action Figures
I actually have only one Wolverine Action Figure. That is the stunning black attire Uncanny X-force version and it looks like this, which you can get from Amazon.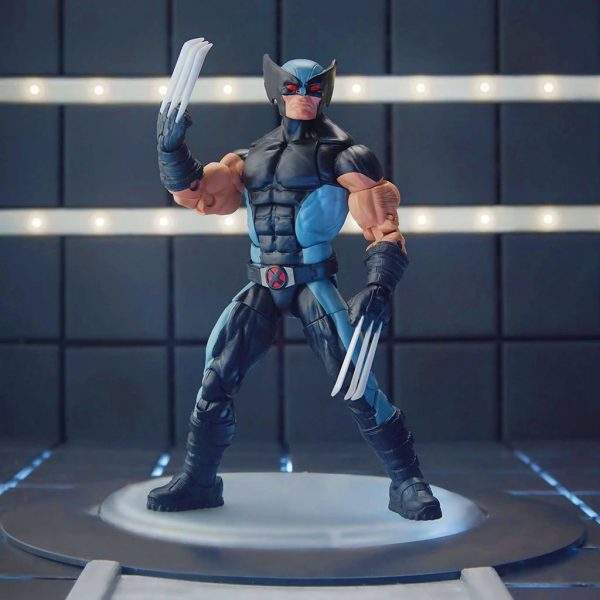 Wolverine is one of my favorite comic character. He is such a badass. His back story make him one of the unique characters in the X-Men. I currently have Wolverine in my pull list i.e.
The current X-Force where he is one of the main team member.
The current Wolverine volume 7
The upcoming Wolverine Black White Blood limited series
I also have the 2020 iWolverine limited series (which I don't really like), Wolverine: Origin, X-Force: Sex + Violence, Rick Remender's extraordinary Uncanny X-Force and many more.
When he was first introduced in the final page of Incredible Hulk #180, before he actually got into action in #181, there's nothing much was said about the character. He just had claws and worked for the Canadian government.
Only after Wolverine: Origin, that we got to know his real name, James Howlett, the tragic events around his first love and how he acquired the name Logan and more.
See, more comics than action figures, I think it is about time that I add more Wolverine to my collection of action figures.
Marvel Legends Series 80th Anniversary Hulk and Wolverine Action Figure
Add this Marvel Legends Series 80th Anniversary Wolverine Action Figure to your cart today and own a piece of Marvel history!
This Marvel Legends Series 80th Anniversary Wolverine Action Figure is a must-have for any fan of the X-Men. The figure features Wolverine in his classic yellow and blue costume, and it comes with a variety of accessories, including a removable mask, claws, and a display stand. The figure is made of high-quality materials and it is highly poseable, so you can recreate your favorite Wolverine scenes from the comics
Product Features
Marvel Comics 80th Anniversary Edition Action Figures: Celebrate the 80th anniversary of Marvel Comics with this Hulk Vs. Wolverine 6-inch-scale action figure 2-pack from the Marvel Legends Series.
Marvel Comics-Inspired Design: With premium deco inspired by the iconic Incredible Hulk comic issue in which Hulk and Wolverine first appeared together, these figures make a great gift for fans of Marvel Entertainment.
Premium Pose-ability and Detail: These highly articulated Marvel Legends Series figures feature intricate character detailing, making them excellent for both play and display.
Switchable Hand Accessories: Both the Hulk and Wolverine figures come with 2 alternate hands, allowing fans to create dynamic poses and imagine the Super Heroes battling one another or teaming up to defeat a common enemy.
This package includes 2 figures and 4 accessories and the Hulk is about 2 inches taller. Get it from Amazon.
Amazing Yamaguchi Wolverine Action Figure
This is the most Amazing Wolverine action figure ever. This Revoltech figure is almost perfect, if it is not. It is super-articulated and has lots of accessories. Yes, it comes with 10 accessories which you can truly personalize it to make it your own and stand out from the other Wolverine in your collection.
This is from Revoltech and not Marvel Legends, but it fits well with Marvel Legends series and other 6 inch action figures.
Mezco Wolverine
Mezco Toyz version of the Brown-and-Tan Wolverine variant. The specifically sculpted body features over 30 points of articulation with hand painted authentic detailing.
It comes with two heads, six pairs of hands (clawed fists, a sword holding hand, a fist, and a pair of holding hands), a sword with its cover, and a fabric costume to truly capture the iconic Wolverine.
Wolverine already came with a built-in adamantium claws, not sure why it came with a sword though.
Something About Wolverine That You Should Know
He has a very strong healing factor. If you are following the current X-Force series, to be specific in X-Force #5, he has no problem to get back on his feet after being cut into half. With some help from Forge of course.
He is immune to virtually all toxins, slowed aging process. Enhanced sense and physical attributes. He is capable of seeing things at a maximum distance greater than any normal human. His hearing is also enhanced, and he is able to recognize people by scent. It's not possible to stay hidden from him.
He also has the indestructible adamantium bonded to his skeleton, thanks to the Weapon X program. And of course, the Wolverine retractable claws.
The claws are housed in his forearms and are part of his skeleton system. The claws are naturally sharp. Since he has adamantium, his claws were able to cut through almost any material. Cutting steel like butter without any fear of damaging the claws.
Wolverine is a master of multiple forms of martial arts, including samurai, and weapons. He is also a trained expert in explosives, assassination techniques, and computers.
In short – a badass killing machine.
However, when it comes to action figures, they are a little fragile. Even though Wolverine has a healing factor, be gentle.
So, tell me, if you can get only 1 Wolverine action figure, which one would it be?