X-Force #3 The Skeleton Key
The art by Joshua Cassara in X-Force #3 is great and continues to get better with each issue. The opening page of torture is proof of that. I really like the opening page.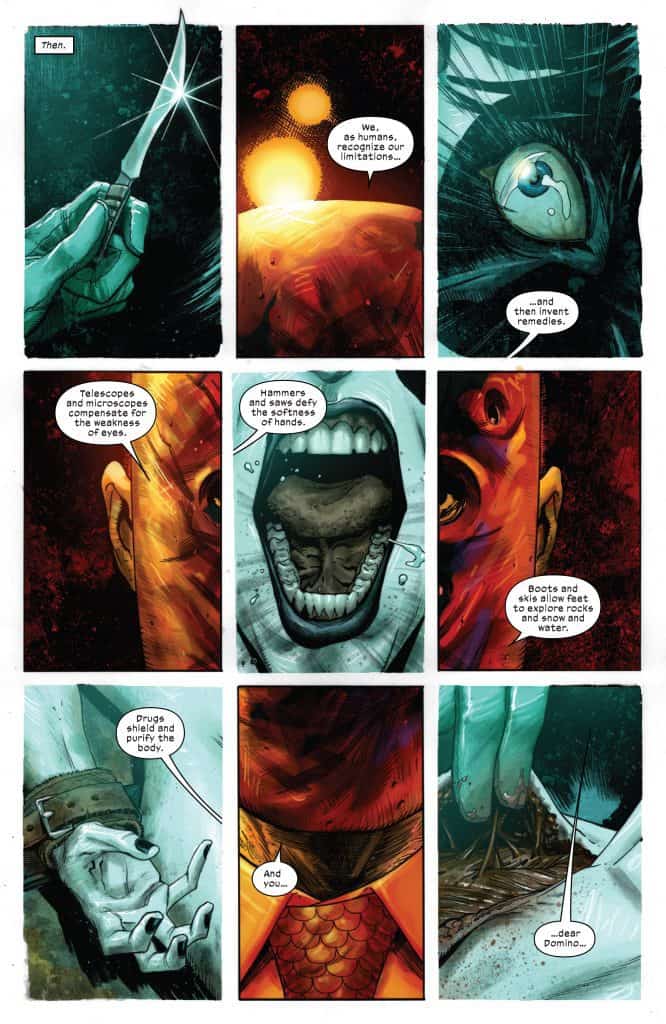 X-Force #3 opens with an incredibly disturbing scene. You see the knife but no cutting and finally Domino's skin being removed from her body. The close-up panels of her screamings. You can feel Domino's pain and it does make your skin crawl.
If you are Wolverine looking at this page I am sure you would want to kill them all now.
We move back to the present-day outside Seoul. Wolverine and Kid Omega have killed all the enhanced humans.
They found and freed Domino. She has lost the skin of the right half of her body and her eye is also missing.
Over here, you will find a slightly different Wolverine on how he agrees to Professor X. He seems not as angry I would be as per my statement earlier.
Anyway, they were suddenly attacked by another enhanced human, but this one is bigger.
A giant.
The scenes of the rescue involving Wolverine, Kid Omega, and Domino are well-crafted and fast-paced action scenes. A contrast to the next few panels.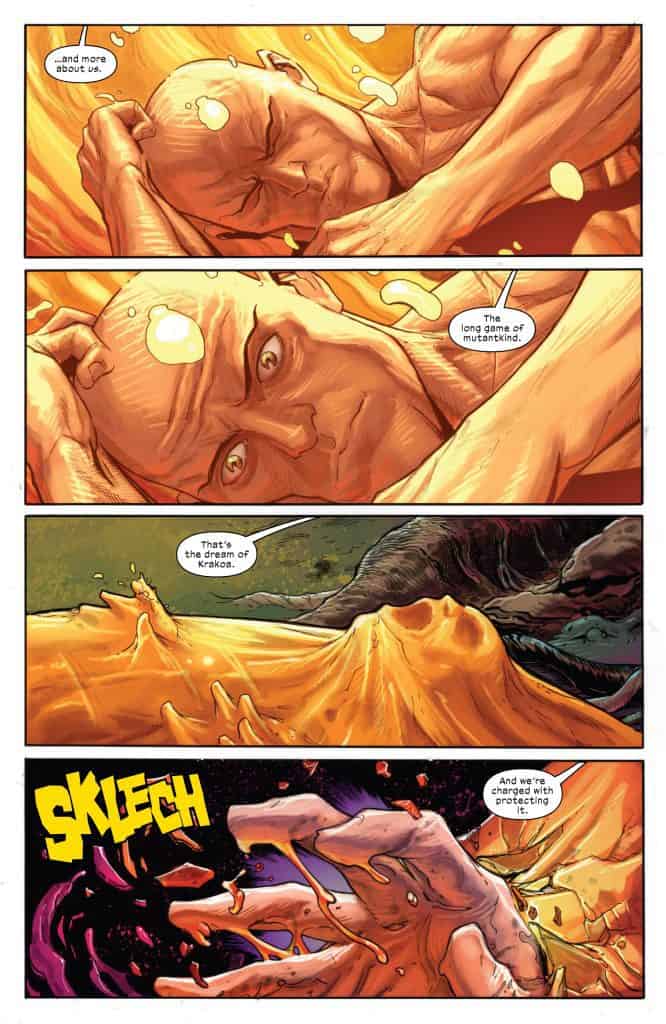 The Beast has successfully brought back Cerebro online and Professor X is resurrected. An interesting perspective introduced by Jean where she said
"Without death, life is less about me and more about us."
There is a scene where an unknown person killed the fifth assassin. No one brought it up, maybe due to he was already physically damaged and dying. It's a mystery as it happened in the Healing Garden of Krakoa.
We also learned that the people who attacked Krakoa are called Xeno.
You need to read the rest yourself 😀
X-Force #3
Story By: Benjamin Percy
Art By: Joshua Cassara
Colors By: Guru -eFX
Letters By: Joe Caramagna
Cover By: Dustin Weaver
Release Date: December 11, 2019
Do I Like X-Force #3?
Yes and I really recommend you to get it too. And don't miss out X-Force #1 and X-Force #2.